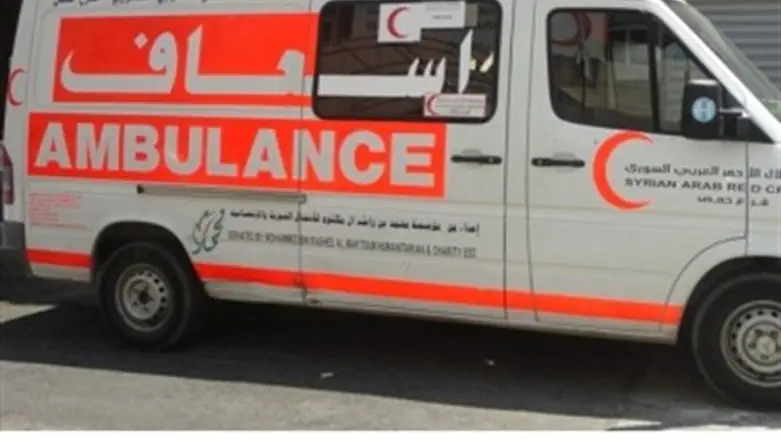 Syrian Arab Red Crescent ambulance
Israel news photo: Int'l Fed. of Red Cross, Red Crescent Societies
Officials at the International Committee of the Red Cross (ICRC) have expressed shock in response to the death of the head of Syria's Red Crescent Society in Idlib, who was shot while on his way to Damascus Wednesday.
Abdulrazak Jbero, former director of Idlib hospital and head of the Red Crescent emergency medical response service in the northern Syrian town was killed while traveling in "a vehicle clearly marked with a Red Crescent emblem," ICRC spokesman Hicham Hassam told reporters in Geneva.
Such vehicles are usually considered by all parties in any conflict to be neutral and not to be targeted for violence.
"Regardless of the circumstances, the ICRC condemns this very severely," added Beatrice Megevando-Roggo, head of ICRC operations for the Near and Middle East. She cited the "lack of respect for medical services" as a major issue in Syria.
She cited "repeated incidents" where Red Crescent ambulances were shot at, and volunteers wounded. Activists have had difficulty gaining access to necessary medical care, she noted.
As it often has in the past, Syrian state media controlled by the regime of President Bashar al-Assad blamed "armed terrorists" for the murder.
"The president of the Syrian Arab Red Crescent, Dr. AbdulRahman al-Attar, said he has 'officially request that Syrian authorities launch an investigation into the death of Dr. Jbero,'" the ICRC added.
The United Nations announced this week that it has given up trying to keep track of how many people have been murdered by Assad regime government forces, due to the difficulty of maintaining personal safety while collecting information. The Arab League has extended its observer mission to the country by one month, but also called on the Syrian president to resign.
The most recent figures for the death toll of civilians at the hands of the Assad security troops was close to about 6,000 people -- and thousands more have been injured, including many who were tortured after being arbitrarily arrested and held for months. Some have "disappeared." Activist organizations have estimated the number of arrests and detentions to be as high as 100,000 or more.