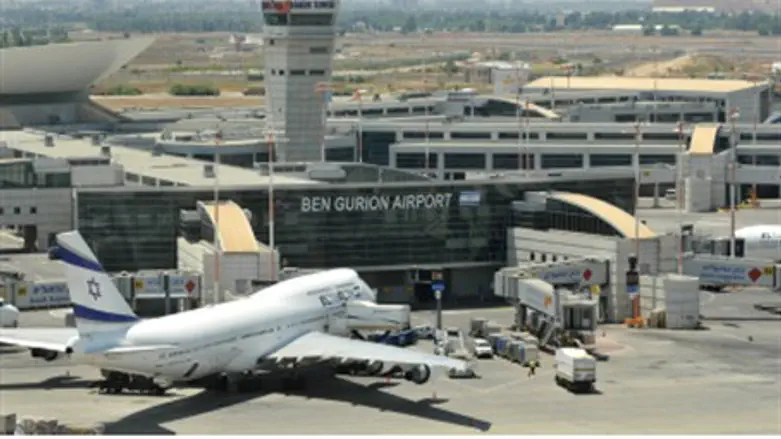 Ben Gurion Airport
Israel news photo: Flash 90
An American Jewish woman says her flight's cancellation due to a hacker attack Wednesday night was clearly the result of Divine Providence.
At least outbound one flight – Delta #269 from Ben Gurion International Airport to JFK in New York – sat on the tarmac for hours as pilots tried to fix contact problems with the tower. Eventually, all the passengers of that flight and the one prior – an El Al flight to New York and Los Angeles – were pulled off the planes and bused to hotels in Tel Aviv and Jerusalem.
A passenger on that flight, Naomi Feldman, told Arutz Sheva in an exclusive interview Thursday morning, "We were sitting there for at least three hours, but after a while, you start to wonder."
For Feldman, however, it turned out well. "A friend needed my presence here to receive her Get (divorce contract) and I had been unable to arrange it due to my schedule. "'How can I manage without you?' she begged me, and I did not know what to say to her," Feldman told Arutz Sheva. "Maybe I should thank these hackers for obeying Hashem's wishes – now I am sitting with her in Beis Din rabbinical court in Jerusalem."
Feldman said she was told by someone the pilot was unable to contact the tower. She added that a taxi driver later commented that media reported it as "Internet interference."  Hackers had also attempted to attack the websites of two major medical centers, but failed both times.
On Wednesday, Israel's National Cyber Command (NCC) and the Counter Terror Bureau (CTB) launched Israel's first official cyber emergency drill dubbed "Lights Out" specifically to train security personnel to deal with the new cyber warfare.
Despite Israel's rising tourism figures, the Tourism Ministry's winter campaign in North America and the country's efforts to upgrade its airport facilities, Feldman says there's still a long way to go before Israeli personnel begin to understand the concept of basic courtesy and customer service.
"Everyone took it with a grain of salt at first -- but when staff could not give straight answers, and as people lost connecting flights, things got tense. Airport people kept saying things like they were "not responsible" for this thing and that thing, and 'can't vouch for' this, and 'can't vouch for' that... well, it was pretty poor service."
Most of the airport workers were "very unhelpful," Feldman said.  "I did not even have the wheelchair service I requested, which I needed because I have a bad back. It's inexcusable in an airport of this caliber."