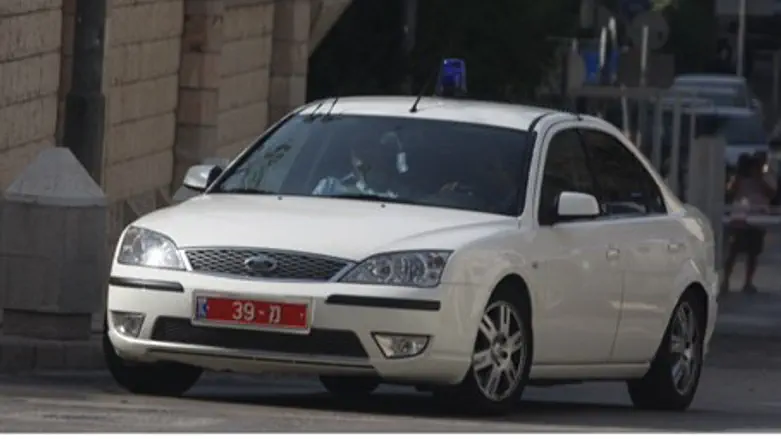 Police car (illustration)
Israel news photo: Flash 90
According to statistics released on Sunday, the Israel Police's Judea and Samaria District did not meet the goals set for it in 2011, as opposed to other police districts which did.
According to the data, which was presented in a report by the Yesha Human Rights Organization and which was based on statistics presented by the police, the Judea and Samaria District led in every parameter, except for the one important parameter of meeting its goals.
The number of police officers in relation to the population size in Judea and Samaria, according to the report, is 200 to 450 percent higher than in police districts where crime is particularly high. For example, the number of policemen in Judea and Samaria is one per 340 residents, compared to areas with high crime rates such as Lod, where there is one cop per 662 residents or Netanya which has one cop for every 1428 residents.
The report also says that the percentage of indictments served against the population in Judea and Samaria is 300 percent, compared to residents of other areas in Israel. This completely contradicts the Attorney General's guidelines regarding the need to determine "a uniform policy of action" throughout the Israeli police, the report notes.
As well, according to the data presented, the percentage of cases which are opened by police in the absence of a complainant in Judea and Samaria is higher by approximately 70 percent than the national average.
The Yesha Human Rights Organization notes that all this points to the fact that the police invests in resources in Judea and Samaria and that local officers are highly "diligent." However, the organization notes, when examining the district's meeting of police goals, one finds that no citizen in Judea and Samaria will be treated in the same way as a resident of Haifa or Be'er Sheva when it comes to offenses of burglary, car theft etc.
Orit Strook, the Director of the Yesha Human Rights Organization, was not surprised by these findings.
"When you invest all your resources on ideological investigations, on evacuations of outposts and on picking on citizens because of demonstrations, it's no wonder that normal crime goes untreated," Strook told Arutz Sheva.
Strook's organization has filed hundreds of complaints against police officers who tended to release their frustrations on Jewish youth in places like Amona and Gush Katif, and it has also pursued criminal and civil cases against dozens of police officers guilty of police brutality. In addition, it has lobbied for and successfully pushed through important legislation that protects the rights of residents of Judea and Samaria.
"The police statistics for 2011 examine how the various police districts met their set five-year targets between 2006 and 2010," Strook said. "The five-year objectives including fighting violence, car thefts, break-ins and serious accidents. The police report indicates that the Central, Southern and Northern Districts met all these goals and were able to reduce the threshold of any of the offenses described above, as expected. The only exception was in the area of violence, where despite the police's effort, the violence in these areas did not decrease but rather increased."
She added, "The picture is clear: In Judea and Samaria over-enforcement is applied towards Jewish residents and nationalist activists, while less enforcement is applied towards their Arab neighbors and the left-wing activists who come to the area."
"The police are busy evacuating outposts and arresting over 'price tag' operations and do not take time to engage in standard police operations, that is providing personal protection to residents," said Strook. "In Judea and Samaria, the opposite phenomenon occurred: the police did not meet any of the goals in terms of car thefts, break-ins, and serious accidents. These actually increased, unlike in other districts."
Strook noted that "only in the goal of violence did the Judea and Samaria District record an impressive achievement. How can it be that there are so many police officers and so much police activity in relation to other districts and yet the district was unable to bring down the crime rates? It is only because the police are engaged in evacuating outposts all day and tracking the hilltop youth."