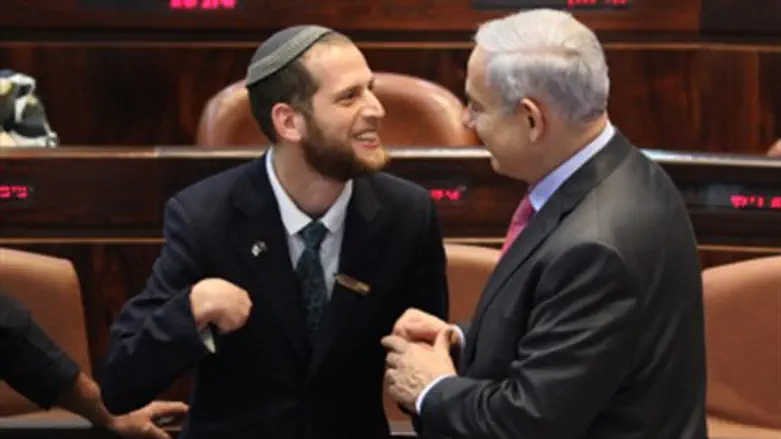 Netanyahu with one of the "Special" Workers
Flash 90
The Shalem Foundation for the development of services for the challenged individual in local authorities, has awarded the Knesset its "Employers Award" for 2011. The award recognizes the Knesset's activities to promote and integrate the disabled in its work force.
Founded in 1983 by the Center of Local Authority in collaboration with the Ministry of Welfare, Shalem aims to develop and promote community services to mentally challenged people of all ages, in all areas of life.
Throughout its years of operation, the foundation assisted in the establishment of hundreds of remedial centers for the mentally challenged population nationwide. This assistance provides a quality physical foundation, which lends pride to its participants, the local authority in which the centers operate and the society at large.
The Knesset today employs about 20 people with disabilities, who are considered full and ordinary employees, despite their disabilities.
In honor of the award, the Knesset Channel met with some of these employees to hear about their feelings and experiences while working in Israel's parliament.
Knesset Speaker MK Reuven Rivlin described the program to integrate people with disabilities as "one of the Knesset's greatest achievements."
"They work in the offices. They assist in the Speaker's office," he said. "These exceptional people are children of G-d. I think the Knesset sets an example and after it sets an example it will also be able to require other places not to exclude exceptional people, the same way they can't exclude other people."
Former Knesset Speaker MK Dalia Itzik said the program "gives you perspective and it also reminds you about whom you really have to care." She added, "We began with three and five and seven employees and that's how it grew, and each morning when I arrived I saw their smiles."
The disabled employees, for their part, described the work in the Knesset as "amazing" and said they feel at home in the Knesset. On a scale of one to ten, they said, the Knesset ranks a ten.