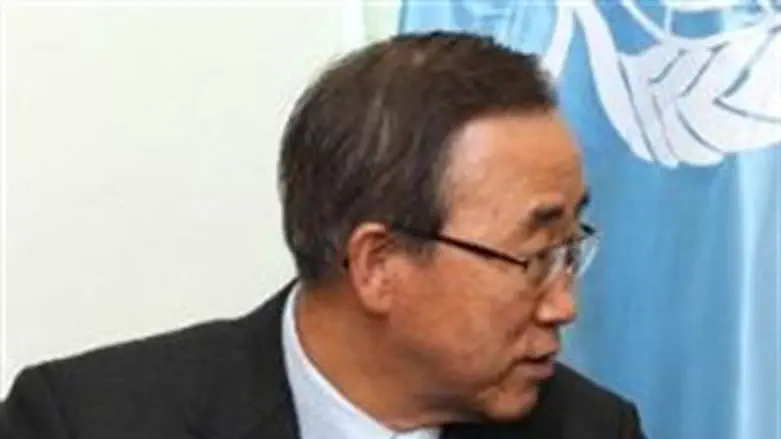 Ban Ki-moon
Israel news photo: United Nations
U.N. Secretary-General Ban Ki-moon called on Israel Sunday to end its "occupation" of Judea, Samaria and Jerusalem.
Wrapping up the final day of his three-day visit to Lebanon, Ban slammed Israel in remarks made during a keynote speech in Beirut at a conference entitled "Reform and Transitions to Democracy." The conference was organized by the United Nations Economic and Social Commission for Western Asia. Among the speakers at the three-day event were former Arab League secretary-general and Egyptian presidential candidate Amr Moussa, and Turkish Foreign Minister Ahmet Davutoglu.
"The Israeli occupation of Arab and Palestinian territories must end. So must violence against civilians," the U.N. Secretary-general stated. "Settlements, new and old, are illegal. They work against the emergence of a viable Palestinian state," he continued, according to the AFP news agency. "A two-state solution is long overdue," Ban added. "The status quo offers only the guarantee of future conflict."
Israeli Foreign Ministry spokesman Yigal Palmor responded to the harsh remarks by saying the ongoing talks between Israel and the Palestinian Authority negotiators were the best way to deal with the concerns raised by the U.N. Chief. "The only thing I can say at this point is that the most important thing is to keep the talks going in view of solving all of the issues," Palmor said, "including those mentioned by the secretary-general. The most important thing now is not to jeopardize the talks that are underway, in any way."
Ban did not restrict his harsh remarks to Israel alone, however.
The U.N. chief called on Syrian President Bashar al-Assad to end the nearly 11-month campaign of violence that has left more than 6,000 anti-government protesters dead. "Stop the violence. Stop killing your people. The path of repression is a dead end," he urged, but offered no concrete plan to intervene in the carnage. "The winds of change will not cease to blow," Ban warned instead. "The flame ignited in Tunisia will not be dimmed."