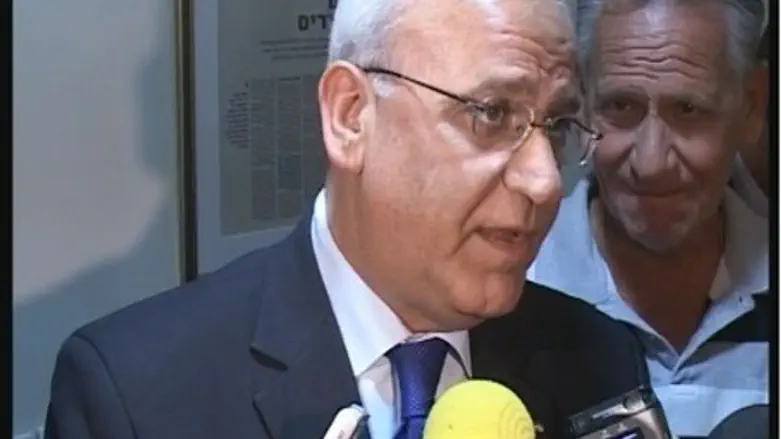 Saeb Erekat
Israel news photo: Flash 90
The third round of Israeli-Palestinian Authority talks resumed in Amman Saturday night, hosted and shepherded to a great extent by Jordanian King Abdullah II, amid speculation as to whether the process will continue.
The deadline for the two sides to present their proposals for a settlement on core issues, as set in September by the Quartet of peacekeeping nations – the U.S., Russia, the European Union and the United Nations – is January 26. A 90-day window was set from October for the two sides to come up with the proposals to advance the peace process following the PA's bid for membership as an independent sovereign nation at the United Nations Security Council and General Assembly.
The U.S. has left open the possibility that the 90-day period could be readjusted to re-start from the time that the talks actually began -- two weeks ago -- rather than from October, thereby extending the deadline for the proposals as well.
Regardless, Palestine Liberation Organization chief negotiator Saeb Erekat has been pessimistic about the process from the outset. Israeli negotiator Yitzchak Molcho has maintained his silence about its chances for success or failure.
Nevertheless, there have been demonstrations against the talks in Ramallah, and the Hamas terrorist rulers of Gaza -- who were supposed to become the partners in a PA unity government -- have expressed their open disapproval and disdain for the PA's cooperation with the Quartet. Likewise, other terrorist groups in Gaza have echoed the contempt of Hamas for the process. 
"I don't believe we can continue with the exploratory talks in Amman after January 26," Erekat said in Ramallah on Saturday, "unless Israel agrees to halt all settlement construction, including in Jerusalem."
The PLO, speaking on behalf of the PA, is also demanding that Israel accept a precondition of negotiating borders based on the 1949 Armistice Lines, also known as the "1967 borders," prior to any direct talks.
In addition, the PLO is demanding the release of all PA prisoners from Israeli jails – including terrorist murderers, and those who were sentenced prior to the signing of the Oslo Accords.
Among those whose freedom is demanded by the PLO are two top terrorists whose release Israel did not agree to even during five years of negotiations with Hamas for the return of kidnapped IDF soldier Gilad Shalit. Both of the multi-murders – Marwan Barghouti, head of the Tanzim terror group and Ahmed Sa'adat, head of the Popular Front for the Liberation of Palestine – are serving multiple life sentences.
Israel is refusing to start talks with any preconditions.