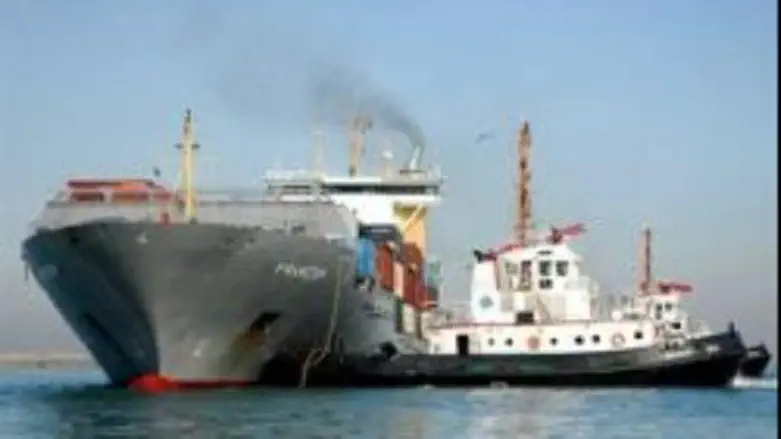 Ship (illustrative)
Israel news photo: IDF spokesman
Russia last week allegedly managed to outsmart European Union sanctions against Syria, having successfully shipping ammunition to the country despite having to stop in Cyprus to refuel due to rough seas, according to Turkish intelligence.
The captain of the vessel – owned by S. Petersburg-based Westberg Ltd. -- told officials in the Cypriot port of Limassol the ship would head to Turkey instead, after four containers filled with bullets were discovered in the hold. Port authorities allowed the "Chariot" to leave with its cargo intact.
Cyprus is a member of the European Union and as such, is required to confiscate such cargo as participation in the sanctions against the regime of Syrian President Bashar al-Assad.
Upon clearing Limassol port, the ship, sailing under the flag of Grenadines and S. Vincent, then switched off the Automatic Identification System (AIS) that enables it to be tracked and vanished off the radar, officials told the Associated Press.
Turkish intelligence said the vessel then made its way straight to the Syrian port of Tartus.
It may be that Cypriots have had enough of confiscating dangerous explosives from sneaky smugglers; last summer 85 containers filled with gunpowder the Iranians had tried to smuggle in 2009 through Syria to Gaza terrorists via a ship under the Cypriot flag blew up at a Cypriot naval base, killing 13 people and damaging the island's power station.