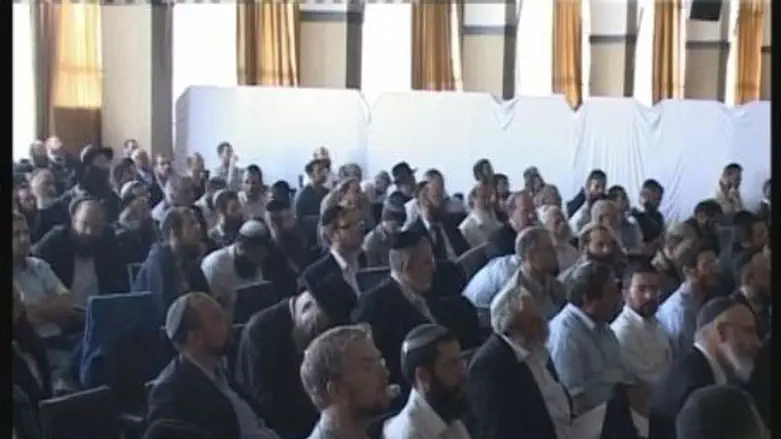 PUAH Conference in Jerusalem
Yoni Kempinski
The Puah Institute's 12th Annual Conference on Fertility and Halakhah took place last week in Jerusalem.
The conference this year was held in the wake of a campaign against it by the women's organization Kolech and the Be Free Israel,NGO, both connected to the radical leftist New Israel Fund. The NGO, which is runnning an "anti-women's exclusion" campaign, called for a public boycott of gynecologists who take part in the conference. The reason for the boycott, said the organization, is that women do not speak at the conference and only rabbis and male gynecologists address the audience.
The Puah institute explained that the reason for having only men take part in the conference was its desire to have rabbis and husbands of women with problems from all streams in religious society, even ultra-hareidi ones, attend the conferences. The rabbis' attendance and involvement is criticial, as their decisions enable ultra-hareidi couples to solve the halakhic questions involved in fertility issues. 
The NGO did not back down and some of the gynecologists who took part in the conference received threats from their colleagues. The doctors making the threats told the participating doctors that they will refuse to work with them if they do not pull out of the conference.
Despite the campaign, however, the event was well attended and it was hard to find a vacant seat in the lecture hall.
Rabbi Menachem Burstein, who heads the Puah Institute, dryly told Arutz Sheva on the sidelines of the conference that he was thankful to all those who threatened to boycott it, because that threat actually brought more attendees.
"I am thankful for the publicity," he said. "I have never received such a big surging wave of love and light. For every doctor who canceled, dozens of other physicians contacted us."
He added, "I hope the public is aware that the New Israel Fund finances the exclusion of doctors from Israel at all kinds of international conferences as well as funding the war within the hareidi-religious community and working against us. I hope organizations in our midst [certain religious Zionist ones, see linked article, ed.] will no longer accept funding from them."
Rabbi Burstein said he hopes the police start an investigation on the threats against doctors, adding, "I appeal to my fellow doctors: I know they threatened you and I hope the police will act on the case, and with G-d's help next year you will come to the 13th conference. I know you love us."
"We at the Puah Institute will continue to serve the religious and non religious public, and all residents of Israel and Jews around the world," he emphasized. "We will continue to listen to the feminine voice, which is very significant. I'm glad the public voted with its feet and came to the conference."