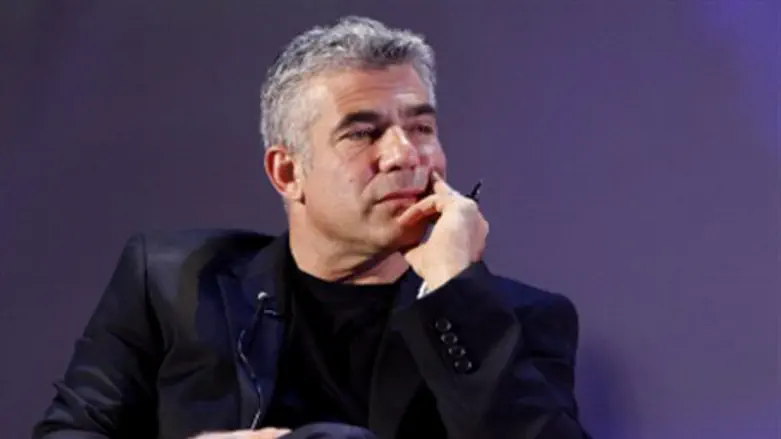 Yair Lapid
Israel news photo: Flash 90
The Chairman of the Knesset's Constitution, Law and Justice Committee, MK David Rotem (Yisrael Beiteinu), announced Tuesday that he will not bring up the bill known as the "Lapid Law" for discussion before the committee on Wednesday.
The bill, which was co-authored by MKs Carmel Shama-Hacohen (Likud) and Ronit Tirosh (Kadima), seeks to establish a cooling-off period of a year for journalists who seek to enter politics.
The law currently mandates cooling-off periods only for military personnel and public servants wishing to enter politics.
The bill, which was first presented nearly a year ago, was widely interpreted as intended to hurt the chances of journalist Yair Lapid. The announcement that the bill was being shelved came just two days after Lapid officially announced he would be entering politics.
For the past three years, Lapid has been the main anchorman for Channel 2 television's Friday evening news magazine, Ulpan Shishi. His plans to enter politics have been known for years and he made little to no effort to conceal them. When it became clear that he was using Ulpan Shishi as a means of gaining popularity before running for office, the cooling off bill was drafted – and dubbed the Yair Lapid Law.
Shama-Hacohen and Tirosh recently restarted efforts to pass the bill into law, prodding Lapid to preemptively announce he was quitting journalism.
Sources close to MK Rotem told Channel 10 News on Tuesday that his decision to cancel the discussion on the bill stems from the fact that there is no point in promoting it now, in light of Lapid's announcement. They added that Rotem himself opposes the law.
Shama-Hacohen, however, told Channel 10 that Lapid's announcement does not eliminate the necessity of the law as a matter of principle and that he is not backing down from his support of it.
Lapid himself, meanwhile, responded to Rotem's announcement with a post on his Facebook page in which he wrote, "The debate in the Knesset on the Lapid Law was canceled, of course, because no one even hid the fact that it was a completely personal law that was meant for me."
He added, "I only have one question for the MKs: 'What are you so afraid of?'"
Earlier on Tuesday, Maariv Deputy Editor Shai Golden warned that Lapid is "a dangerous man because he has no political views that are known to the public."
"Throughout his years of writing he has been busy hiding his positions and has said many things that contradict each other, so that if you analyze his statements in depth you discover that they are completely empty," Golden told Globes.
He added that Lapid's switch from journalism to politics marks a new low in the history of Israeli politics, "in which a helium balloon succeeds in pulling hundreds of thousands of voters behind it."