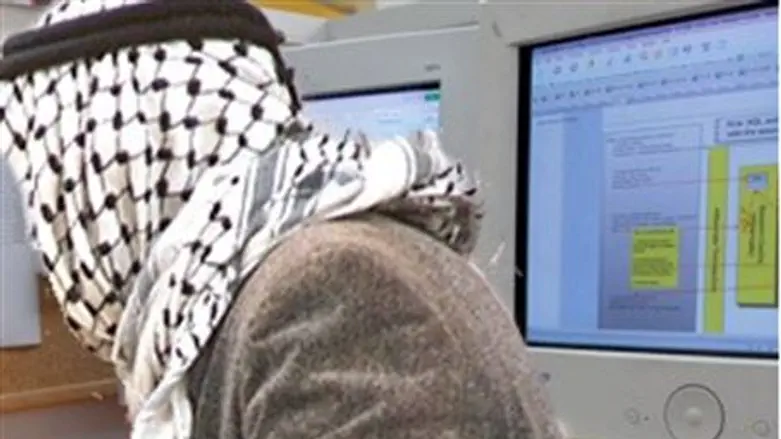 Terrorists and computers
Israel news photo: Flash 90 / Illustrative
Terrorists are hitting the social networks to fight Israel and Western countries, says Haifa University Professor Gabriel Weimann.
A statement originating from Lebanon has reported that Hizbullah is searching for material on the Israeli army's Facebook activity. "Facebook has become a great place to obtain intelligence. Many users don't even bother finding out who they are confirming as 'Friend' and to whom they are providing access to a large amount of information on their personal life," according to Prof, Weimann. "The terrorists themselves, in parallel, are able to create false profiles that enable them to get into highly visible groups," he says.
American, British and Canadian soldiers have been instructed to remove identifying information from social networks.
Hamas has used the Internet to show anyone who wants to how make an explosive that can blow up a jeep.
Use of "the most advanced of Western communication technology is, paradoxically, what the terror organizations are now using to fight the West," according to Prof. Weimann.
The damage that can be done through hacking was illustrated last week with the attack against thousands of Israeli credit card holders by an anti-Zionist, but invading databases is just the tip of the iceberg in online terrorist activity.
A number of Facebook groups are asking users to join and support Hizbullah, Hamas and other armed groups that have been included in the West's list of declared terror organizations.
"Today, about 90 percent of organized terrorism on the Internet is being carried out through the social media. By using these tools, the organizations are able to be active in recruiting new friends without geographical limitations," says Prof. Weimann.
Using chat rooms, YouTube, Myspace, and more, "The social media is enabling the terror organizations to take initiatives by making 'Friend' requests, uploading video clips, and the like, and they no longer have to make do with the passive tools available on regular websites," he notes.
The Israel Law Center (Shurat HaDin) recently has warned Twitter to stop providing communication facilities for terror groups like Hizbullah, or face a lawsuit on behalf of American citizens and others who have been victims of terrorism.
In a letter to Twitter executives, Israel Law Center head Nitsana Darshan-Leitner warned the social media messaging service that the issue was not censorship, but compliance with security laws, which Twitter, as a U.S.-based entity, was obligated to undertake.
Besides violating U.S. anti-terrorism laws, Twitter will also find itself a target of multi-million dollar lawsuits if it does not cancel the accounts, Darshan-Leitner says. "Many U.S. entities and individuals who have provided material support to terrorists have been sued by the terror victims and their families for aiding and abetting international terrorism," she explains.