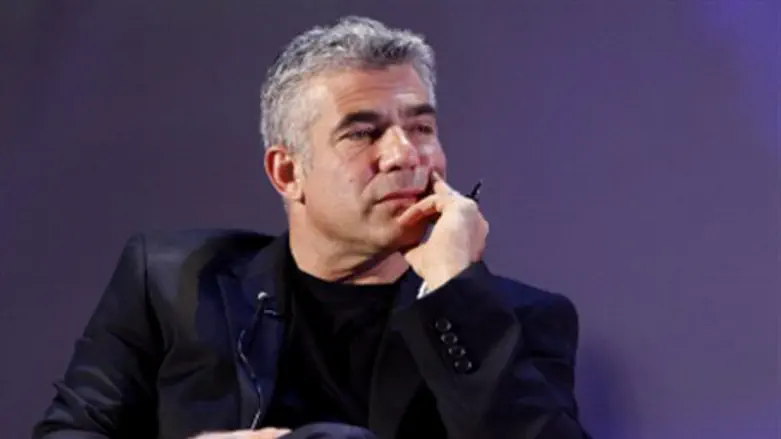 Yair Lapid
Israel news photo: Flash 90
Journalist Yair Lapid announced Sunday that he would be entering politics. The decision was prompted by renewed efforts in the Knesset to pass a law that would require journalists to undergo a 12-month cooling off period before they could run for office. 
Polls held last week predicted that a party headed by Lapid would garner between 15 and 20 seats, were elections held now.
For the past three years, Lapid has been the main anchorman for Channel 2 television's flagship news magazine, Ulpan Shishi, which is aired on Friday evenings. His plans to enter politics have been known for years and he made little to no effort to conceal them. When it became clear that he was using Ulpan Shishi as a means of gaining popularity before running for office, the cooling off bill was drafted – and dubbed the Yair Lapid Law. 
MKs Carmel Shama (Likud) and Ronit Tirosh (Kadima) recently restarted efforts to pass the bill into law, prodding Lapid to preemptively announce he was quitting journalism. The Knesset's Law, Constitution and Justice Committee is to discuss the bill Wednesday, and the bill may yet pass despite Lapid's move. However – he will not be affected by it, since it cannot be applied retroactively.
If elections are held at their appointed date, in late 2013, Lapid may find that his popularity has waned considerably.
Lapid's father, the late Yosef (Tommy) Lapid, was also a journalist who became a politician at an advanced age. He headed the short-lived Shinui party, which ran on a virulently anti-hareidi platform and received 15 Knesset seats when it was at its apex, and took part in Ariel Sharon's government (but left it in 2004). The younger Lapid is also associated with an anti-hareidi posture.