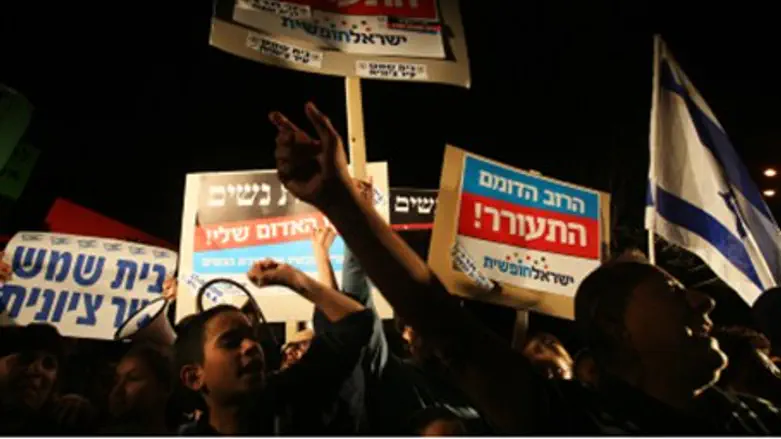 Be Free Israel protest in Beit Shemesh
Israel news photo: Flash 90
"Be Free Israel," an NGO with connections to the New Israel Fund, is continuing its anti-"women's exclusion" campaign, which included a recent demonstration in Beit Shemesh. This week its arrows are aimed at the Puah Institute, which assists couples suffering from fertility problems. Religious as well as non-observant couples have only praise for the dedicated work of the religious organization, respected in Israeli and international circles for its professionallity and caring.
The NGO – which, according to the Wikipedia entry describing it, has received money from the New Israel Fund since last July – called Thursday for a public boycott of gynecologists who take part in an annual conference sponsored by Puah. It noted that women do not speak at the conference and only rabbis and male gynecologists will address the audience.
"If you excluded women from a gynecology conference – from now on, your clients will also only be men!" – was one of the slogans the movement sounded.
The Puah institute said in response that it holds a conference on subjects of medicine and halakhah every year, with the participation of over 1,500 men and women from all hues of the religious and hareidi public.  "Over the years, due to the Institute's conferences, halakhic decisors have taken into account the latest advances in medicine, and have advanced women's health in the religious and hareidi sectors as well."
Puah explained that it wants rabbis from all streams in religious society, even ultra-hareidi ones, to attend the conferences. "Those who are sensitive to the public know that many of the participants in the conference do not attend other conferences, because of differing views of modesty, and see this as a major halakhic problem. For this reason, the Rishon LeTzion, the Gaon Rav Mordechai Eliyahu ztz"l, instructed us to open the conference to men and women equally but with separate seating, and that the lecturers in the conference will be men."  
Puah stressed that in other conferences held by Puah, female doctors and professionals do give lectures. The institute said that that certain elements "are cynically and aggressively taking advantage of the public atmosphere today and trying to advance their agenda on the Puah Institute's back."