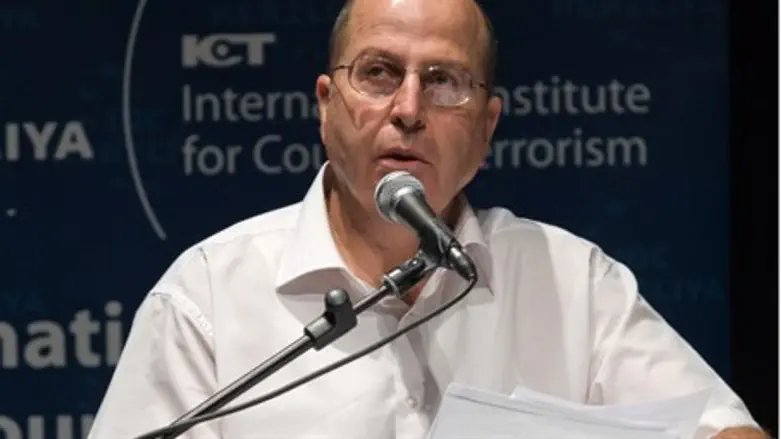 Yaalon at IDC , 12.9.11
IDC PR
In a recording unveiled Thursday morning, Deputy Prime Minister Moshe Ya'alon was revealed as being sharply opposed to the idea of including Defense Minister Ehud Barak in the Likud list for the next Knesset elections. The tape of the heated discussion among senior Likud officials was played Thursday morning on Army Radio.
"Is he really an electoral asset? I think he is an electoral liability," Ya'alon is heard telling MKs and activists. Ya'alon went on to say that without Barak in the Likud, the Defense Minister would have no chance of getting into the Knesset; Barak dropped out of Labor last year to establish his own list, Atzma'ut, which all polls show as having absolutely no chance of getting a seat in the next Knesset.
"Including them would set up an internal competition" between the Likud's ideology and policies, and Barak's, Ya'alon said. Barak and his cohorts views essential issues, such as defense and the support of towns in Yesha, in a completely different light than the Likud. "Do we really need to guarantee positions in the party list for people who are diametrically opposed to our ideas," Ya'alon said.
While there has been no public discussion of the matter, sources in the Likud said that Prime Minister Binyamin Netanyahu has broached the idea of including Barak in the Likud list, and guaranteeing him a position in the top ten members of the Likud list for the next election.
Other MKs have spoken out against Barak's inclusion in the Likud list. In a recent interview with Arutz 7, MK Danny Danon said that he would run for the presidium of the Likud primaries in order to stop Barak from joining the Likud, We don't want Barak in the Likud," Danon said. "The same defense minister who said he would have joined Hamas if he was a Palestinian - his place is not in the Likud. I will do everything in my power to stop Barak from joining the Likud." Among other Likud factions who oppose idea are Likud Anglos, with whom Ya'alon has a close relationship.
In the tape, Ya'alon expressed his opposition to the idea of reserving spaces for "guests" altogether. Pointing to his own political experience, Ya'alon said that he had been offered numerous reserved spots, but had turned them down. "If I join a party I want to compete for a seat. This is the democracy I am familiar with, not the 'reservation' system. I am opposed to reserving Knesset seats for anyone, and especially for someone who will work against the Likud way," Ya'alon added.