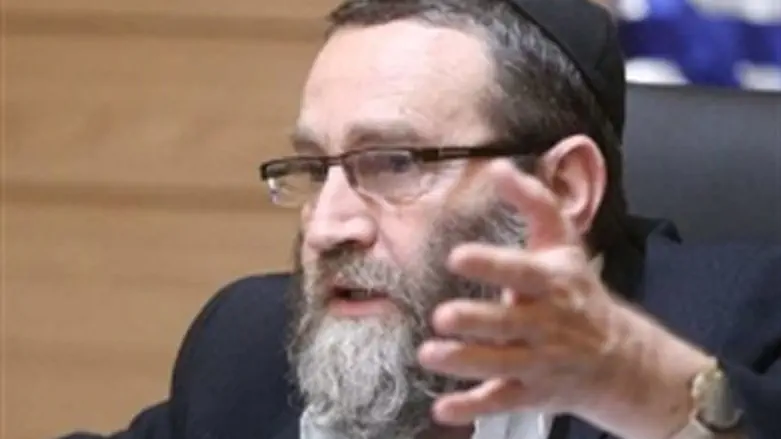 MK Moshe Gafni
Israel news photo: Flash 90
A lawmaker from the United Torah Judaism party has warned young hareidi religious men not to enlist in the IDF programs that were geared especially for the religiously observant population -- unless the army sets protocols to ensure the recruits will be able to maintain their observance of Torah law.
MK Moshe Gafni said Thursday in an interview broadcast on state-run Voice of Israel radio, "If the IDF wants to enlist hareidim, it must adjust itself to accommodate their beliefs."
Gafni's remarks came in response to a recommendation this week by a General Staff committee headed by IDF Personnel Directorate chief Maj.-Gen. Orna Barbivai that led to a ruling by IDF Chief of Staff Lt.-Gen. Benny Ganz mandating all soldiers attend every official military ceremony, even those that include female vocalist performances,
regardless of religious prohibitions
. Exemptions can only be sought for private unit events.
The ruling flies directly in the face of previous agreements with military rabbis and leaders of the hareidi religious community, who spent years in delicate negotiations cobbling together an agreement on maintaining the standards and working conditions that would enable hareidi men to enlist.
The spectre of a broken agreement has many in the hareidi religious community badly upset, especially as a number of recruits are already enrolled in one such program. Leaving might not be an option; staying means certain violations of their Torah observance -- something they were assured they would never have to face, when they enrolled.
The Chief Rabbi of the Israeli Air Force, Lt. Col. Rabbi Moshe Ravad, announced Tuesday that he would resign from the Shachar program for enlistment of hareidi-religious men, which he has accompanied since its inception. The rabbi stated in a letter to the chief of staff and the soldiers in the program, that the reason for the move was the decision to integrate women into the program.
Chief Military Rabbi, Brigadier General Rafi Peretz, recommended the next day in response, that the IAF remove Rabbi Ravad from his post as coordinator of the project.