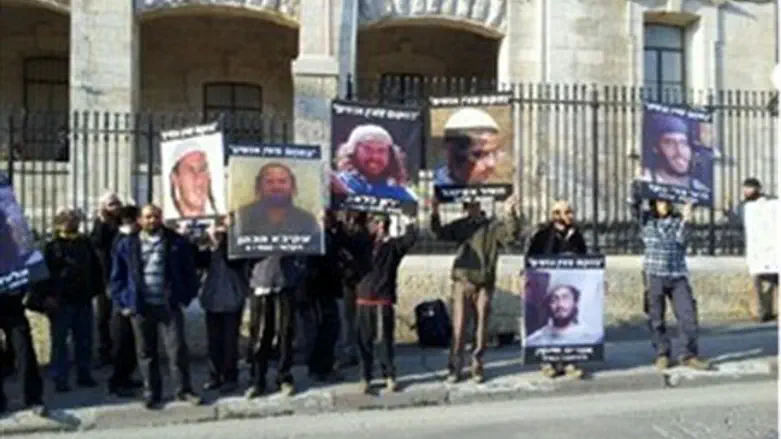 Nationalists protest outside the Jerusalem Ma
Israel news photo: Hezki Ezra
The Jerusalem Magistrate's Court on Tuesday extended the remands of several residents of Judea and Samaria, who in August were given restraining orders by police and were forced to leave their homes.
They are now being accused of no less than spying, simply because they warned Jews residing in communities in Judea and Samaria of impending demolitions of homes. They are being accused under Section 113 of the Israeli Penal Code, according to which a person who obtained, collected, prepared, made or held secret knowledge is charged with espionage. The maximum penalty for such offenses is seven years in prison.
As the judge was extending the suspects' remand, a demonstration was being held outside the court as nationalists gathered and blew whistles to protest the treatment of the detainees. During the protest, one demonstrator was arrested for whistling outside the court. A police officer stationed in the area warned the protesters that anyone who whistles will be immediately arrested.
MK Michael Ben Ari (National Union), who was present at the protest, told Arutz Sheva, "It cannot be that Anat Kam was not accused of spying and people who report about a bulldozer moving from one place to another are being accused of spying. It's insane."
Ben Ari said that such behavior by the authorities turns Israel "not into a third world country but a tenth world country. If it is possible to make up charges within a moment it means that there's nothing against them. I expect the court to not only release them but to throw those who arrested them in jail."
The father of one of the detainees expressed shock at the decision to accuse the men of spying, saying, "The decision means that the Prime Minister has turned Jews into enemies. Section 113 of the Penal Code is a serious section which refers to those who passed information to the enemy. This is the first time it has been used against Jews who passed information to other Jews."