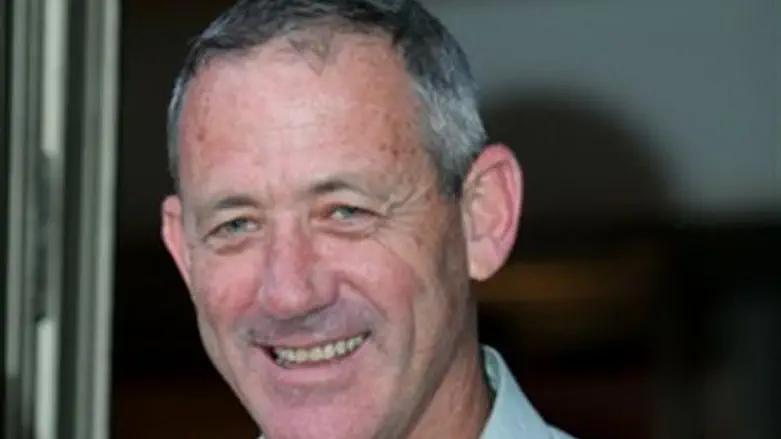 Maj.-Gen. Benny Ganz
Israel news photo: Flash 90
IDF Chief of Staff Lt.-Gen. Benny Ganz ruled Monday that no soldier will be allowed to absent himself from official military ceremonies, even if it conflicts with his religious observance.
Religiously observant soldiers were told they will be required to attend official ceremonies even if a performance by a female singer or dancer is included. However, soldiers will be allowed to ask their commanders for an exemption from performances during private unit parties.
"In informal events, one can and should respect [religious soldiers.] We're not fighting with [them], we're looking for ways not to fight with them, "Ganz said. "We're looking for ways to serve alongside them," he said. "That means that in social events we can excuse them, and in formal gatherings everyone must attend together," he explained.
However, the ruling presents a conflict between a religious soldier's duty to obey his military commander's orders and his duty to obey G-d.
Torah law prohibits a Jewish man from listening to a live vocal performance by a woman who is not his wife, and likewise forbids a Jewish man from watching a woman dance, who is not his wife.
Monday's IDF ruling came following deliberations over the issue of exclusion of women, and their equality in the army, by a General Staff committee headed by IDF Personnel Directorate chief Maj.-Gen. Orna Barbivai. The issue is considered a controversial one in the military where such ceremonies are seen as a cultural unifier.
In the past, there has been an unwritten understanding by most commanders that religiously observant men could quietly excuse themselves for the part of the ceremony in which a woman was performing. Military rabbis have repeatedly explained that the issue is not exclusion of the women, but rather men's temporary, discreet exclusion of themselves.
Several months ago, however, one commander did not allow his men to leave, but instead forced them to choose between observance of Torah commandments, or compromising their values and returning to their seats, threatening  to expel them from the officers' program in which they were enrolled if they left.
A media firestorm ensued, and the issue has since continued to escalate.
Last week, amidst chaos and demonstrations sparked by a violent fringe hareidi group in Beit Shemesh, the melee culminated finally in a directive issued in a letter by the leader of the Lithanian hareidi religious world, 106-year-old Rabbi Yosef Shalom Elyashiv, who called on observant Jewish men to simply avoid all IDF programs in the future, including those geared specifically for the observant population.