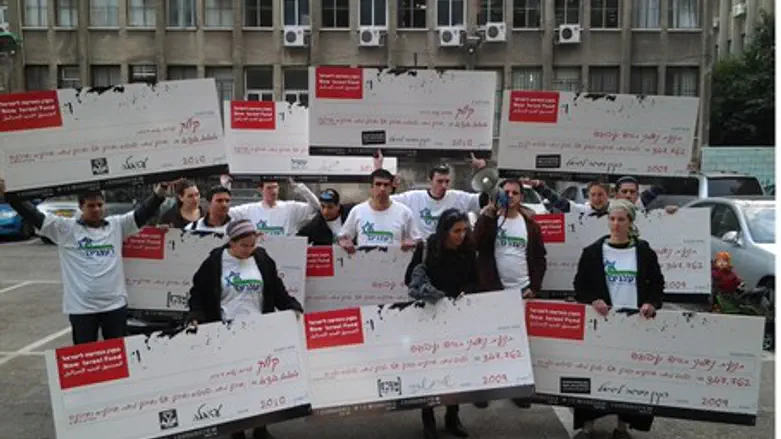 Raananim holds 'checks' in protest
Israel news photo: Raananim
Members of Raananim, a movement that defines itself as "Religious Zionism's New Generation," held a protest on Sunday outside the headquarters of the Ne'emanei Torah Va'Avodah movement.
The protest was held after last week Raananim exposed a video clip which shows the radical leftist New Israel Fund's hidden agenda to influence religious Zionism.
The video shows that NIF, which has supported anti-Zionist NGOs and was exposed as a subversive element by the Im Tirtzu grassroots student organization, now plans to help fund religious-Zionist organizations in order to gain a foothold that will allow it to promote its radical leftist agenda.
Ne'emanei Torah Va'Avodah, a left-leaning neo-Orthodox group, is one of the groups that receive funding from NIF. During the protest, the Raananim activists held up huge checks "signed" by NIF and its subsidiary Shatil.
Raananim member Keren Bardugo told Arutz Sheva that it is "inappropriate" that "organizations that call themselves religious-Zionist receive funds from organizations that are anti-Israel."
"That's why we're here: to protest against this issue and wake them up so they return the money to where it came from, because we don't want it," she said.
Raananim chairman Yoni Shetbon rejected claims recently directed at the movement, according to which its struggle against other religious-Zionist organizations may cause a split in the movement.
"Our struggle is an honest and real struggle because we want to prevent a split in the religious-Zionist movement," he said. "Anyone for whom the unity of the religious-Zionist movement is important understands very well that the NIF has one purpose: to split us from within by transferring money as the video showed."
He added, "I once again call on our friends from Ne'emanei Torah Va'Avodah, from Kolech, from the Yaacov Herzog Center and any other organization that receives funds [from NIF]: the unity of the religious-Zionist camp is above everything. Leave the money from the NIF."