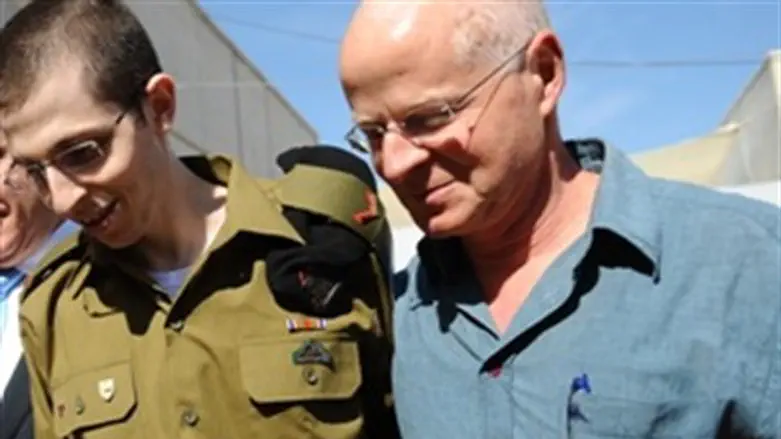 Gilad Shalit and his father Noam
Israel news photo: IDF
"The next abduction of an Israeli soldier will lead to war," Israel's forum of eight senior ministers said on Friday.
According to Yisrael Hayom the senior ministers accepted a recommendation from senior IDF commanders in the "Shamgar report" that any kidnapping of an Israeli soldier or civilian would serve as a trigger for war. The ministers were unanimous in approving the measure.
Defense Minister Ehud Barak, a member of the forum of eight, is expected to formally implement the conclusions of the Shamgar report, which prescribes rules and clear procedures for action following the abduction of Israelis, in the coming week.
Officials say the conclusions of the report encapsulate Israel's "national ethics", which require a clear message to the enemy that future kidnappings will not be profitable.
A senior diplomatic source said this week "our restraint ends if Israelis are kidnapped - the price paid by their abductor may be the end of their reign".
The Shamgar Report was written by a committee headed by former Supreme Court Justice Meir Shamgar, Maj. Gen. Amos Yaron, and Prof. Asa Kasher.
Initially commissioned four years ago following the kidnapping of Israeli soldiers by Hizbullah terrorists on the Lebanese border, the committee refrained from submitting the report, at the request of the political echelon, for the Shalit deal to be completed.
After the release of Gilad Shalit in exchange for 1,027 terrorists, which caused dismay among many Israelis who believed the deal showed weakness and capitulation, the committee interviewed Mossad officer David Maidan who negotiated the deal before issuing its final recommendations.
After the Shalit deal, Hamas declared victory over Israel and – saying kidnapping had proven itself a winning tactic – promised more abductions would be forthcoming.
The decision to turn kidnapping into a trigger for war comes as Israeli leaders mull a large scale operation in Gaza to root out the terror infrastructure there.
Earlier this week, IDF chief of staff Benny Gantz said Israel could "not escape" such an operation in the long run. Over 1 million Israelis live under the routine threat of missile and rocket attacks from terrorists in Gaza.