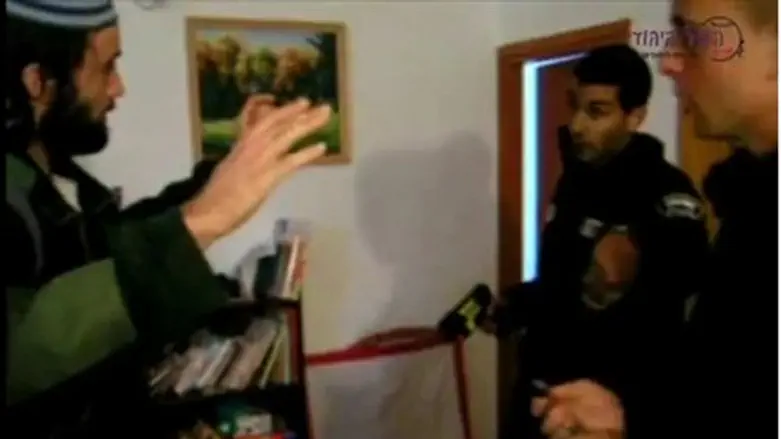 Taser assisted home invasion
Hakol Hayehudi
Video footage (below) shows police officers harassing a nationalist, Pinchasi Bar On, inside his own home at Esh Kodesh, near Shilo.
Bar On, a soldier in the IDF, was arrested three weeks ago on suspicion of leaking military information to other residents in Judea and Samaria (Yehuda and Shomron, or Yesha). After more than a week of strenuous interrogation in the National Unit for Investigation of International and Serious Crime, he was released to eight days' house arrest after no connection was found between him and the alleged offenses.  
During the days he was in house arrest, in the home of a relative in one of the communities in Binyamin, police came to the home twice a day, ostensibly to make sure that he was there. Every night, police visited the home in the wee hours of the night, between 1:00 and 3:00 a.m.
On the night between Wednesday and Thursday the police came at 2:40 a.m. Bar On opened the door and the police demanded identification. He told them – as he had told all policemen who visited the home previously – that his ID card had been left behind at Hadarim Prison, where he had been held, and that he had no other ID on him.
These police told him that he was being detained and taken to the police station for identification. Bar On objected and said that the police have other ways of ascertaining his identity besides dragging him off to the station at 3:00 a.m.
When the policemen insisted, Bar On said the arrest was unlawful, and refused to go along. In response, policeman Tomer Elias pulled out a taser gun and threatened to use it against Bar On, even though Bar On had used no force against the policemen.   
Bar On was eventually handcuffed and taken to the police station, where he was charged with attacking Elias...
Bar On denied the charge and said Elias was deliberately harassing him for fear that Bar On would file a complaint against him. He was then locked up all day and cuffed during a large part of the time.
NGO Honenu that assisted Bar On said: "It appears that the police have decided to use the tools their disposal to get revenge on a person whose guilt they were not able to prove. This is a scandal."
Video courtesy of Hakol Hayehudi