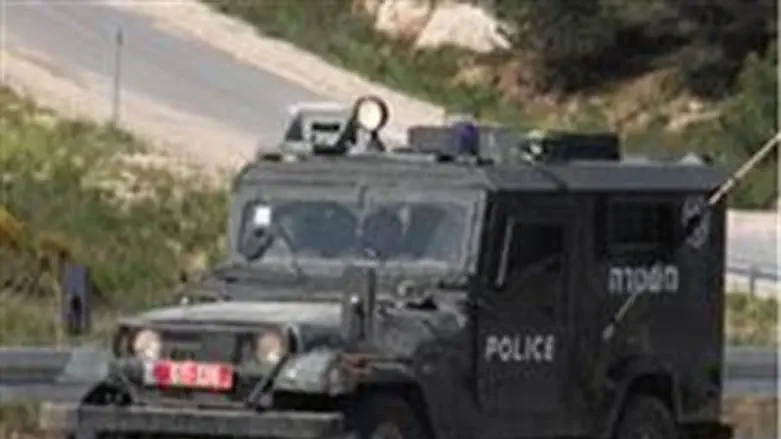 Border Police (Illustration)
Flash 90
An Israeli vehicle was fired upon when leaving the community of Maale Shomron in Samaria (Shomron) on Saturday. Maale Shomron is a mixed secular and religious community, which allows driving in the town on Shabbat except for the area of the synagogue. 
No physical injuries were reported, but the car sustained bullet damage.
Security forces responded to the scene with a forensics team. Ephraim Brigade deputy commander Tzur Harpaz also responded to the scene.
Police, who are treating the incident as terrorism, told reporters [after Shabbat] the shooter used a shotgun. A vehicle used in the attack was seen heading in the direction of the nearby Arab village of Azzun, near Kedummim, they say.
Shomron residents say incidents where Arab assailants throw large stones or Molotov cocktails at Israeli vehicles are a daily event.
Earlier this week terrorists opened fire on Israelis traveling near the community of Rechelim north of Shilo. There were no casualties in that incident, either.
Last Tuesday evening MK Otniel Shneller's car was firebombed near the Binyamin community of Ofra.
In late September, 25-year old Asher Palmer and his infant son Yonatan were murdered by Arab terrorists near Hevron in Judea when a stone hurled through his windshield struck him in the head and caused him to lose control of the vehicle.
Yesha Council chairman Danny Dayan – who passed by the site of the attack moments before – said he wasn't surprised by Saturday's incident in light of the recent announcement by Fatah chairman Mahmoud Abbas and Hamas politburo chief Khaled Mashaal that Hamas would be joining the PLO.
"In a time when Abbas shows respect to the murderer Amna Muna and hugs Mashaal, it's no surprise that terrorists are coming out of their holes and trying to kill more Jews," he said.