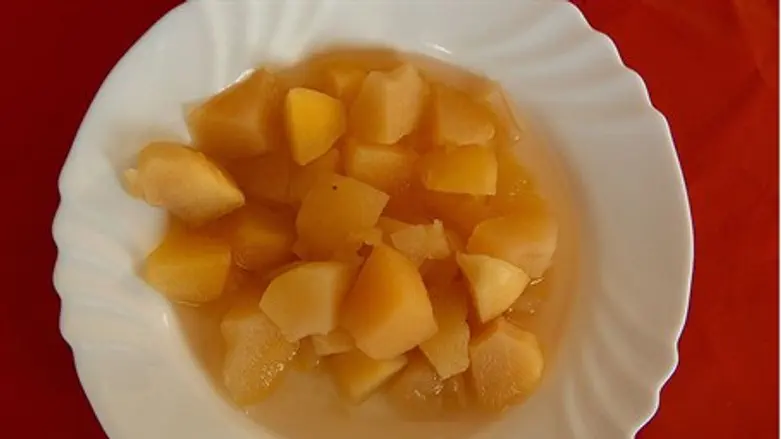 Chunky Compote
GNU/MarkusHagenlocher
This recipe is dedicated to the memory of my Oma who's yarzheit is on the eighth day of Hanukkah.
Hanukkah latkes are yummy!  Certainly not the healthiest food, and definitely hard to digest.  Potato latkes are often eaten with a little bit of applesauce on the side.  Believe it or not, that little bit of applesauce actually helps with the digestion of the latke.
Apples contain both malic and tartaric acids which inhibit the growth of unhealthy bacteria in the digestive tract.  Apples also contain pectin which removes cholesterol and helps the liver and the gallbladder to metabolize fat.  Apples, especially green apples are used to soften gallstones in preparation for a gallbladder flush.
The recipe below is from my Oma.  My Oma was born and passed away on the same day, on the eighth day of Hanukkah.  Needless to say that my grandmother was a wonderful cook-and her favorite activity was to feed us!  Her homemade applesauce was one of my favorite foods as a child, and to this day it is my ultimate comfort food.  Her method was to cook the apples whole, and then to puree them using a food mill  Using a food mill, a once common kitchen tool,  simplifies the process and makes the work involved almost nil.  
Unfortunately, the food mill is no longer common (Williams-Sonoma does sell food mills for the ridiculous price of $150) and this necessitates peeling and coring the apples before cooking them.  While preparing the apples for cooking does require more time and effort, the end result justifies the means.
Tradition holds that being born and passing away on the same day is the sign of someone who is a zadik (a righteous person).  I love that my Oma's yarzheit is on the last night of Hanukkah, a time when Jews, all over the world are lighting an abundance of candles.  I am comforted in the knowledge that my Oma's neshama (soul) can be easily drawn by those sparks of light to be with those who might need her.
10 golden apples

1/2 cup water

3/4 cup orange juice (or to taste)

1/4 tsp cinnamon (optional)
If you own a food mill boil the apples whole, if not then peel and core the apples.  Bring the water to a boil and add the apples. Simmer on a low flame for approximately one hour or until the apples are soft. Remove from the flame,  and either sieve through a food mill or lightly mash with a fork.  Add the orange juice and refrigerate.
Sima Herzfeld Navon has a clinic for holistic medicine.  She also teaches healthy cooking and nutritional healing.