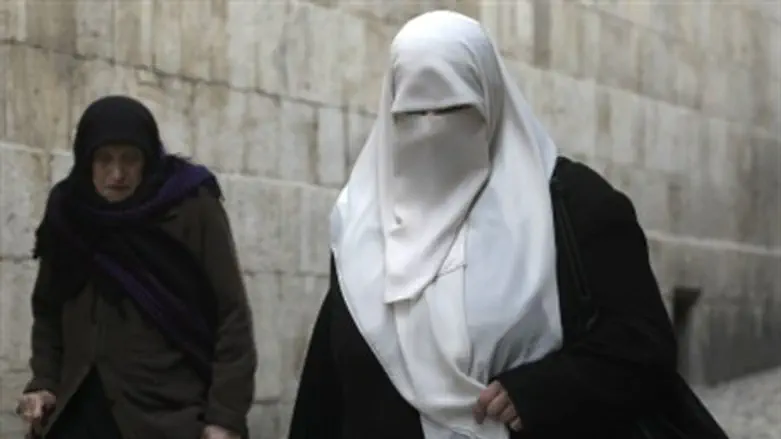 Arab women (illustrative)
Israel news photo: Flash 90
Some 10,000 women marched Tuesday from Cairo's Tahrir Square to the nearby Press Syndicate building chanting "Egyptian women are the red line," according to local media reporting on military brutality against female protesters.
The protest was provoked by an image published in media around the world of soldiers violently stripping a Muslim woman during protests two days earlier and dragging her through the street, her robes yanked up and her blue bra bared for all the world to see. The image was flashed around the world and posted on social media pages, including Twitter and Facebook.
Women young and old gathered near the iconic square after a Facebook call went out to protest against the images being circulated of young women being harassed, beaten and stripped by Egyptian military. 
Egyptian General Adel Emara, a member of the ruling military council, acknowledged the incident during a televised media conference Monday, but said the scene was taken out of context. A veteran female journalist, however, stood up and told Emara he should apologize to Egyptian women, "or the next revolution will be a women's revolution for real," she warned.

The general ignored the warning and brushed off the request, prompting the march by women on Tuesday, using social media to call for the protest via a Facebook campaign and the Twitter hash tag #BlueBra.
Warned one protester on her sign: "If you don't leave your house today to confront the militias of Tantawi, you will leave your house tomorrow so they can rape your daughter."
U.S. Secretary of State Hillary Clinton expressed "shock" over the events in a briefing with media on Monday in Washington D.C.
"Women are being beaten and humiliated in the same streets where they risked their lives for the revolution only a few short months ago," she said. "Women are being attacked, stripped and beaten in the streets," Clinton added, saying the brutality by Egyptian military men "disgraces the state and its uniform."
This is not the first time that Egyptian military personnel have used their positions to sexually assault female protesters -- or for that matter, female journalists working in the field. During the initial days of the Egyptian Revolution earlier this year, there were numerous instances of Egyptian soldiers sexually assaulting female journalists, including those from major foreign networks.
Protests in general have continued to mar the process of Egypt's current parliamentary elections with riots by those who insist the military council is not moving fast enough to hand over authority to civilian authorities and implement reforms.