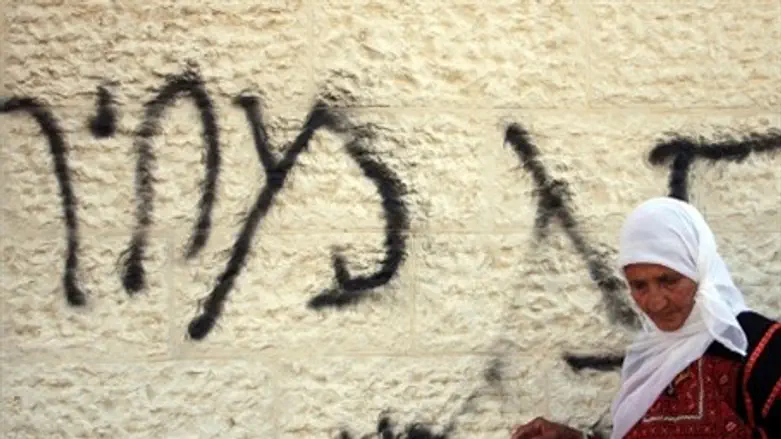 'Price tag' (archives)
Israel news photo: Flash 90
MKs Ahmed Tibi and Ibrahim Sarsour (Raam-Taal) submitted a new bill to the Knesset on Tuesday bill, which seeks to toughen the punishment of perpetrators of 'price tag' vandalism in mosques.
The bill will set a sentence of six years in prison for those who damage holy sites of Judaism, Christianity or Islam, such as synagogues, churches or mosques.
Tibi and Sarsour also call for up to two years' imprisonment for anyone who publicly calls or writes against one of the religions.
The bill's explanatory notes tie it to the recent 'price tag' vandalism and the two MKs wrote, "In the wake of the wave of arson against mosques, this proposal is inevitable and we cannot settle for weak condemnations."
Tibi and Sarsour are both notorious for the anti-Israel statements they constantly make. Just last week, Tibi launched a verbal assault on the head of the Manhigut Yehudit faction in the Likud, Moshe Feiglin.
As both were being interviewed on Channel 2 News, Tibi called Feiglin "an anti-Semitic Jew who supports the burning of mosques" and labeled him "moral garbage."
Tibi's tirade came after Feiglin suggested that there is no evidence to suggest that the recent arsons in mosques were carried out by Jewish nationalists.
Sarsour recently called to establish an Islamic Caliphate centered in Jerusalem and praised Hizbullah for defeating Israel. He has also urged Arab and Muslim leaders to wage war on Israel, citing Christian Zionists as one of the elements conspiring to 'Judaize' Jerusalem.