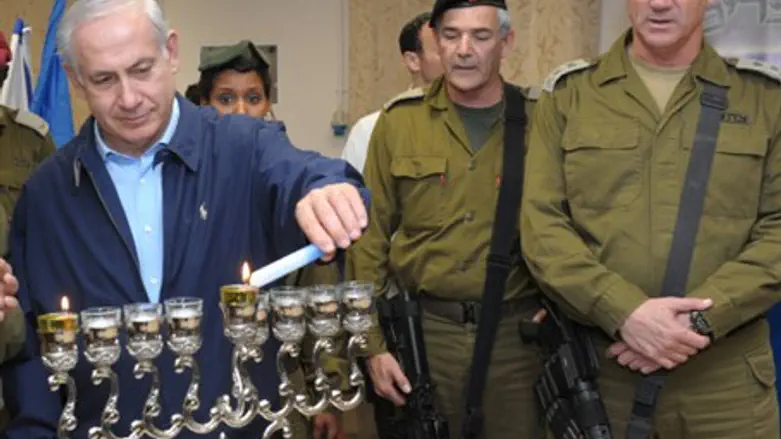 Netanyahu Lights Channukiah
Ariel Hermoni/Defense ministry/Flash90
Prime Minister Binyamin Netanyahu and Defense Minister Ehud Barack on Teusday visited the Ephraim Brigade headquarters in Samaria to light the first Hannukah candle this year.
During the visit Barak and Netanyahu were accompanied by Judea and Samaria Battalion commander Shai Avital and Ephraim Brigade commander Colonel Ron Kahane.
The event – staged for the media – comes after last Monday's riot at the base in which angry Jewish youths clashed with soldiers after hearing reports the brigade had been ordered to demolish Jewish in Ramat Gilad during the night - which later proved accurate. According to security officials the youth threw stones and Molotov cocktails at IDF vehicles.
A report in the Hebrew Makor Rishon on Friday, Minister Benny Begin had worked out the deal to avoid the demolitions, but Barak had decided to reject it – and raced to demolish the site.
After last week's tensions the deal – which would move the disputed structures several dozen meters in exchange for government recognition as a new neighborhood of Karnei Shomron - is reportedly once again in the works.
Before meeting with the brigade's soldiers for the lighting ceremony Netanyahu was briefed on several incidents in which sector commanders and soldiers have allegedly been attacked by – in the words of senior officers and security officials – "Israeli outlaws."
Netanyahu told the officers present he was trying to make it easier for them to cope with disturbances in Judea and Samaria and reiterated he approved a series of security protocols targeting nationalist protesters in the region.
He also repeated his now honed mantra, "unless we stop it now, it will spread."
"Even a small spot can stain a white shirt," Netanyahu said. "This was a stain on democracy and the rule of law. But it was also a stain on a great public - the residents here - who are hurt by this lawlessness."
"I am glad to oppose this lawlessness," he added. 
Meeting with the soldiers of the brigade Netanyahu said, "we can not accept casualties - not among the IDF, border police, Arabs, or Jews."
A senior official in Samaria who asked to remain anonymous expressed concern over Netanyahu's remarks to Arutz Sheva.
"Netanyahu and Barak are joining the festival of incitement against the entire settlement community, as was done recently by the leftists and the media," he said. "It only makes matters worse."
Netanyahu previously stated he did not believe the riot at the Ephraim Brigade headquarters was representative of the Jewish residents of Judea and Samaria, saying those behind it represented "an extremist fringe."
Community leaders and rabbis in Judea and Samaria broadly condemned the incident calling it "shameful and disgraceful," but some say the residents of Judea and Samaria were not responsible and have nothing to apologize - and are falling into a media trap by doing so.
A delegation of rabbis from the Samaria Rabbinical Council led by Chief Rabbi Shlomo Amar last week issued a statement that harming IDF soldiers was "a grave sin." They also called on the government to stop using the IDF - the people's army - to settle domestic political disputes where no national consensus exists.
However, while the incident itself has been almost universally condemned by leaders in Judea and Samaria, there have also been accusations security officials have blown the incident out of proportion for cynical ends.