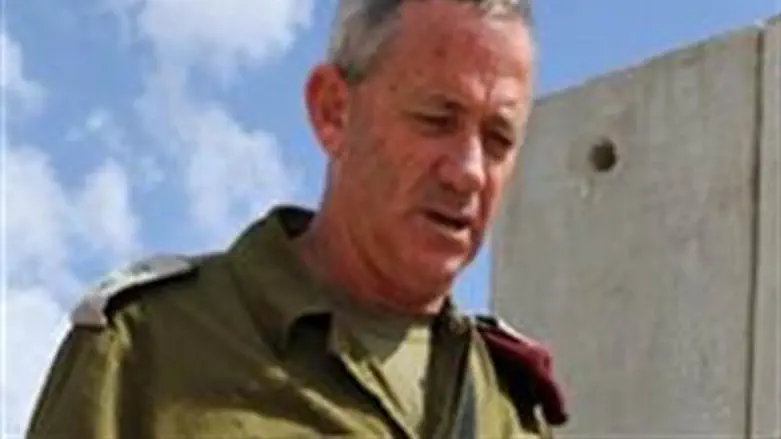 Benny Gantz
IDF Photo
IDF Chief of Staff Benny Gantz on Monday sought to refute claims Defense Minister Ehud Barak was making political appointments to Israel's General Staff.
"The claims in these publications have no relation to reality," Gantz said. "I make the appointments with the Defense Minister's assent. As has always been we select only the best, based on military considerations, in a transparent process," he said. "We put all the right people in the right places at the right time.
"All the noise surrounding these appointments are gossip without foundation," Gantz said, adding: "it is important people keep their tongues from evil, do good, and seek the peace."
Previously senior sources in the IDF Central Command told Arutz Sheva that the IDF staff had been directed in its appointments by Barak.
Gantz's comments come amid nationalist outrage at the appointment of now-Maj. Gen. Nitzan Alon to head up the IDF Central Command, and Brigadier Shai Avital to replace him as the commander of the IDF in Judea and Samaria.
Chairman Benny Katzover of the Samaria (Shomron) Residents' Committee said told Army Radio that Alon "behaves in a political way and Defense Minister Ehud Barak appoints political people."
Alon's tenure as commander in Judea and Samaria was rife with controversy due to his repeated and open statement of his left-wing political views.
It has been an open secret in the past few years that Nitzan Alon is a favorite of Barak, who is said to see Alon as a perfect individual to implement his policy regarding Jewish communities in Judea and Samaria, including the freeze on construction and demolitions of outposts.
Alon endorsed a Gaza-like disengagement from Judea and Samaria, called local activists "terrorists," ordered all officers from Judea and Samaria undergo additional security vetting, and even engaged in foreign relations by calling on the U.S. Congress to continue funding the Palestinian Authority during his tenure as commander in Judea and Samaria.
Avital is no stranger to controversy in Judea and Samaria, and has also called for a disengagement from the region saying it would simplify protecting Israel's northern frontier.
Local residents say appointing commanders who are opposed to Israel's presence in Judea and Samaria to command the region adversely impacts their confidence that the IDF will actively see to their defense and has caused unnecessary tense relations where cooperation should be flourishing.