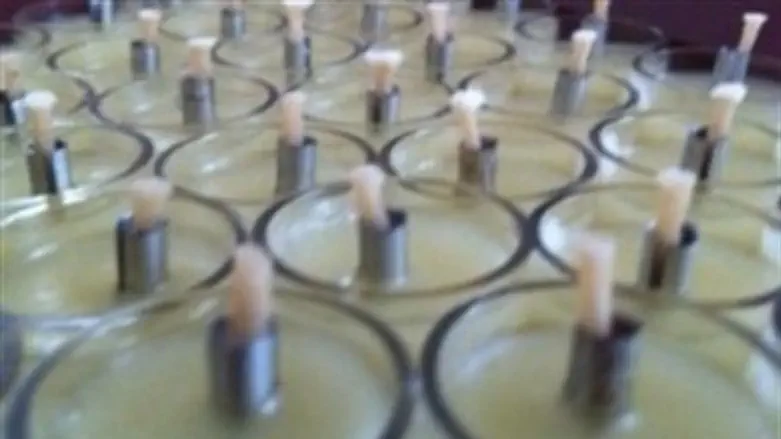 Hanukkah Candles
justaddflax
Traditionally, Israeli bakeries, supermarkets and homes offer fried doughnuts on Hanukkah, while Western [Ashkenazi] Jews fry the sizzling potato pancakes called latkes.  Why not enjoy both? 
Square Doughnuts for Hanukkah
Israelis make these doughnuts (usually round, but why not be different?) for Hannukah with confectioner's sugar on top or a delightful array of frostings, and often inject jelly or chocolate filling inside. The Israeli doughnut has no hole in the middle.
For the recipe:http://www.cookkosher.com/index.php?option=com_content&view=article&id=6811&Itemid=2
Courtesy of Zalmam Roth at CookKosher.com
And, Of Course... Latkes
by Sima Herzfeld Navon
The Festival of Light is just around the corner.  Jews and their sense of humor, how can anyone consider fried potatoes and fried dough to be light?  Festival of Oil is more like it.  To make matters even worse, Hanukkah is smack in the middle of the winter, a time when we are most susceptible to gaining weight, and to retaining it.  Tradition is tradition, there really is no getting around the jelly donuts and potato pancakes, but there are healthier ways to keep tradition.
Baking is always better than frying.  While baked latkes certainly don't taste nearly as good as fried latkes, they are definitely healthier.  Another option is to add vegetables to the latkes to increase their nutritional value.  I like to grate some zucchini, carrots, and sweet potatoes, and add them to the standard potato latke.  
Another trick that I have is to add a little bit of wakame (seaweed) to the potato latkes.  I just tell everyone that it is parsley and no one knows the difference.  The advantage of having wakame in your potato latkes is that the alginate in the wakame inhibits the fat absorption by over 75%. Pretty amazing!  So now you can eat your latkes and banish the fat.
Ingredients:
3 potatoes
1 onion
1 zucchini
1 sweet potato
1/2 tsp wakame
3 eggs
1/4 cup flour
salt and pepper
1/4 tsp baking powder (optional)
oil for frying
Soak the wakame in cold water for five minutes.
Grate the vegetables and squeeze out the excess water.  Squeeze the excess water from the wakame and add the wakame to the vegetables.  Add the remaining ingredients and mix well.
Heat the oil in a frying pan. Add the mixture one tablespoon at a time into the oil.  When the bottom is golden brown, flip the latke and brown the other side.
Remove from the pan, drain the oil, and serve
Tip: Adding a piece of carrot to the oil prevents the oil from developing a burnt flavor.
Note:  The recipe above is not meant to promote eating, heavy, greasy, fried foods. My intention here is to help remedy an already bad situation.