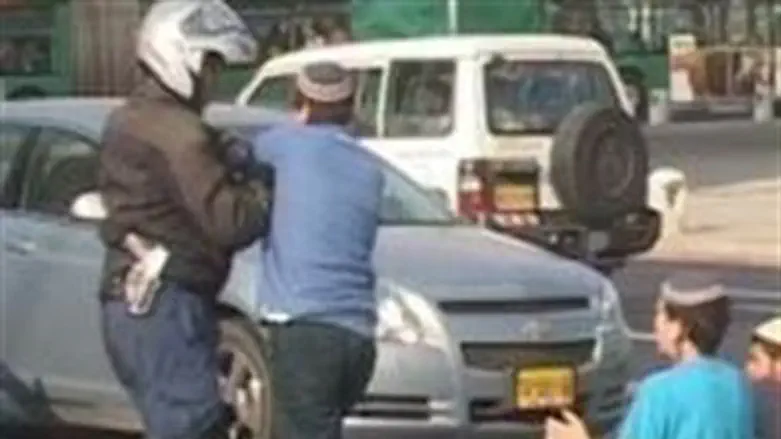 Protester Being Arrested
Arutz Sheva
Even the far left B'Tselem organization criticized the extremist comments made by Labor MK Binyamin Ben-Eliezer, who suggestied that IDF soldiers "shoot settlers" who clash with them when security forces try to demolish homes in Judea and Samaria. Some of the radical left applauded his remarks.
The B'Tselem group, known chiefly for its advocacy for Arabs in disputes with the IDF and over Jewish property rights in Judea and Samaria, condemned the idea, saying that shooting live ammunition at Jewish protesters was "an unacceptable method of dealing with civilian violence by Jewish residents" of Judea and Samaria.
In a statement, B'Tselem said that "we reject comments calling for the army to fire live ammunition on settlers who attack soldiers. The rules of engagement for IDF soldiers prevent opening fire in any instance other than a threat to their lives. This is an unacceptable method for dealing with such incidents, which must be dealt with as criminal cases."
B'Tselem said that while the problem was a serious one, it was certainly not to be equated with situations in which IDF soldiers' lives were truly in danger. "Instead of taking draconian steps to deal with this problem, it would be better for soldiers in the field to avoid engaging in clashes and instead arrest those who are responsible for the violence and file complaints with police, and allow the police in Yesha (Judea and Samaria) to thoroughly investigate the complaints." This applies to violence against both soldiers and Arabs, the statement said.
An IDF official told Arutz Sheva in an interview Wednesday that the army understood how to deal with the situation, and that Ben-Eliezer's comments were not applicable. "The rioters are a small group that don't listen to anyone. As far as we are concerned there is no change in orders on when to open fire. IDF troops do not shoot at stone throwers." The official added that the IDF did not intend to allow itself to be turned into an "evacuation force" which would remove Jews from their homes in order to fulfill a political decision. That was the job of police, and would remain so.