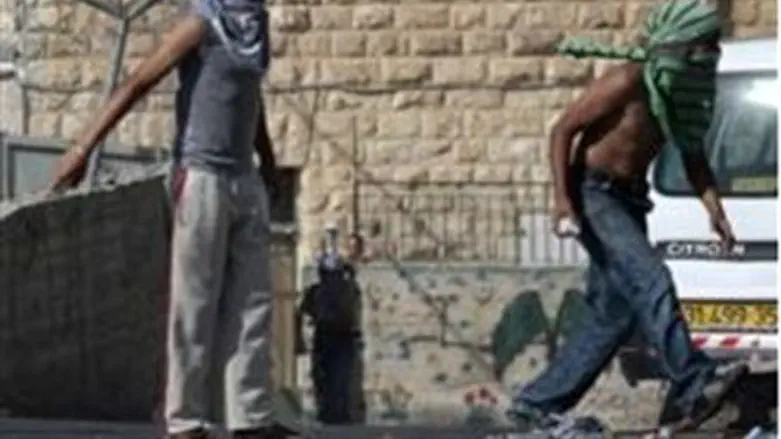 Rock throwing Arabs in Jerusalem (archive)
Israel news photo: Flash 90
Arabs in the northern Jerusalem neighborhood of Shuafat attacked Israeli Border Guard officers Sunday afternoon while on patrol in the area.
Dozens of the attackers hurled rocks at the police officers. No one was injured, but several military vehicles were damaged in the attack.
Last week, PA Arabs hurled rocks at the new Jerusalem Light Rail as it passed through the Shuafat neighborhood. None of the passengers were injured, but the attackers damaged one of the cars. 
It wasn't the first time Shuafat residents had thrown rocks at the new train.
Arabs in the area have expressed their rage at the inclusion of their neighborhood on the route of the new light rail, intended to make it easier for people to travel from one end of the city to the other.
Many of the Arab residents of the neighborhood are in a peculiar position; politically, they have elected to be "citizens" of the Palestinian Authority, and vote in PA elections. However, they are also bona fide residents of Israel's capital, Jerusalem, and as such possess the blue "teudat zehut" -- the Israeli identification card that enables them to travel in and out and move about the city as they please. 
"This duality of belonging creates a psychic dissonance for such people," according to Dr. Simone Gordon, an expert on trauma and criminality with a practice based in New York and Jerusalem. Dr. Gordon spoke with Arutz Sheva in a telephone interview from New York.
In some cases an internal conflict is generated, she noted, causing "great difficulty in determining how to pick a path between the demands of Arab leaders who insist on hatred of all things Israeli, and the desire for a better life that comes precisely with those things one is told to hate."
The frustration of having to live with constant internal conflict, added to the stress imposed by the demands of the leadership in the community, can ultimately lead to tragedy, Gordon added.