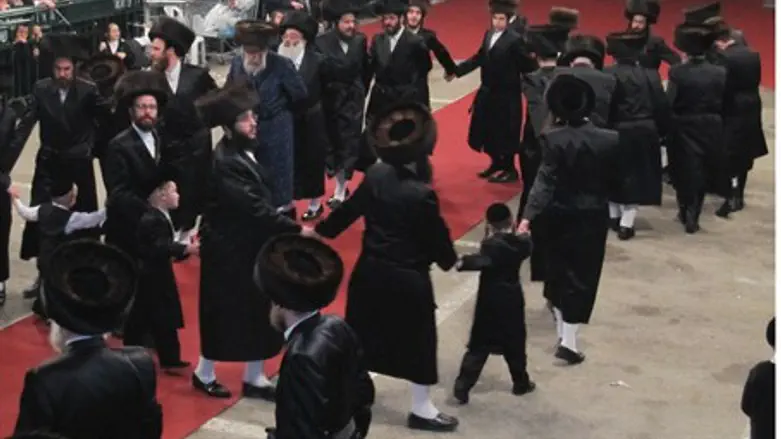 Vizhnitz wedding of the year
Israel news photo: Yoni Kempinski
Vizhnitz hassidim on Wednesday celebrated what was termed "the wedding of the year", that of Chananiah Lipa Hager, the great grandson of the Vizhnitzer Rebbe, Rabbi Moshe Yehoshua Hager.
The preparations for the simcha [joyous occasion, ed] began several weeks beforehand, and a huge tent was built on the outskirts of Petach Tikva to accommodate the thousands of visitors, from around Israel and around the world, who attended.
"Tonight we celebrate the marriage of righteous people," Vizhnitzer Hassid Rabbi Srulik Itzkovich told Arutz Sheva. "We celebrate the wedding of the great-grandson of the Vizhnitzer Rebbe. The groom, Lipa, who is 18 and a half years old, is marrying Etel from the Greenfeld family."
He noted that the wedding was attended by no less than 12,000 people.
One of the important parts of a hassidic wedding is a custom known as the "mitzvah tantz," [dance that is a good deed, ed.]  when selected men dance before the bride once the wedding dinner is over.
A special tune announces that the dance is to begin, and in some cases, it starts with the elderly rabbis dancing in a circle to the song "Command the salvation of Jacob [the Jewish people]".
The bride, who has been with the women, separated from the men and the groom by a partition called a "mechitza" throughout the dinner, now sits next to her husband and mother, with the rebbetzins [rabbi's wives, ed.] and other women guests behind them, after the movable partition is opened.
The men chosen for the dance are called up by a "badchan", a man who writes and chants a rhymed description in YIddish lauding each man and his family. The bride  rises, standing still and holding one end of a long black sash called a "gartel" [otherwise tied as a belt by hassidim during prayer, ed.], usually shyly keeping her eyes cast down, while the guest dancing before her holds the other end.  After a few minutes, a circle of men gather him in to dance with them and he drops the gartel.
The leading rabbis present, honored guests and relatives, grandfathers and brothers will be called to dance before her in their turn, sometimes as a group. In some hassidic groups, her father will dispense with the gartel and hold his daughter's hands when it is his turn, as will her new husband, who is the last to be praised and called to rejoice before his bride.
When the new couple are scions of rabbinic families, the "mitzvah tantz" furnishes an opportunity for the entire community to watch and rejoice as the dancing is done by the leading religious figures in attendance.
Rabbi Itzkovich explained that despite this particular wedding being attended by so many people, it being the wedding of the rebbe's great-grandson, it is no less exciting than a regular wedding.
"The rebbe is more than just a father of children. He bears the burden of us all," he explained. "He lives with your personal problems and is your rabbi every single day. When a good friend marries a son or daughter it's very nice, but when it's the rebbe, who's a spiritual leader, it's like our father is marrying off his son. That's why everyone is dressed in their best clothes, which is not always the case in a regular wedding. It's something personal. Everyone feels at home here. They sang a niggun here in Yiddish which said, 'when the rebbe marries off a son it's our simcha and not his.'"