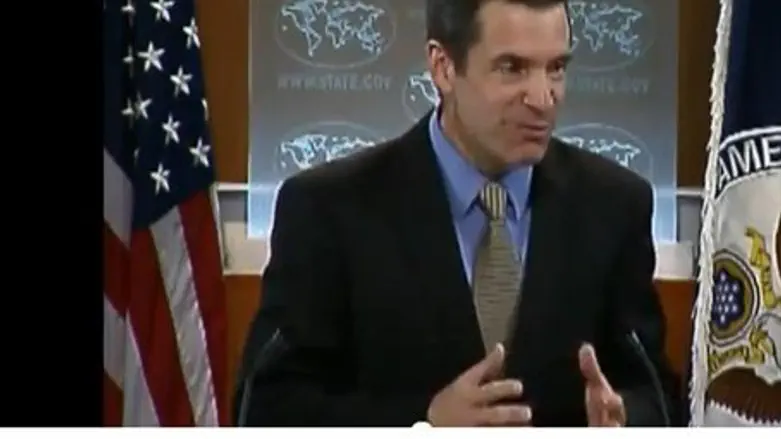 State Dept. Spokesman Toner
Israel news photo: US State Dept.
The Associated Press' Matt Lee unsuccessfully struggled for several minutes Monday to get a straight answer out of U.S. State Department spokesman Mark Toner if the Obama administration agreed with an ambassador's remarks that resentment over the Arab-Israeli conflict is fueling resentment against European Jews. 
Howard Gutman, the U.S. Ambassador to Belgium, told a conference on anti-Semitism, "Were a lasting peace in the Middle East to be reached, were joint and co-operative Israeli-Arab attentions turned to focus instead on such serious, common threats such as Iran, this second type of ethnic tension and bigotry here in Europe, which is clearly growing today, would clearly abate."
He sharply criticized Israel, as well as the Palestinian Authority, for failing to continue with the "peace process," that by almost all accounts, including those of the Palestinian Authority, is dead and buried.,
Toner was asked if the U.S. government agrees with Gutman's remarks, which shocked Israel and angered many pro-Israel Americans to the point that the comments were called anti-Semitic.
The spokesman replied, "He did condemn and was very vocal about condemning anti-Semitism in all its forms, and I believe he expressed regret that his words might have been taken out of context… And the Administration and the State Department says that we condemn anti-Semitism in all its forms."
The Associated Press journalist responded, "That's great, Mark. I'm glad that you do, and I'm sure everyone is glad that you do, but do you agree with the content of Ambassador Gutman's speech?"
Toner stumbled and dug himself in a hole by finally stating,  "It was his [Gutman's] opinion. He was not speaking on behalf  -- ." Before he could finish the sentence, Lee retorted, "The Ambassador to Belgium shows up at a conference in Europe, in Belgium, and he is not speaking on behalf of the U.S. Government. Is that correct?"
Toner backtracked and said, "Well, of course, when – anytime an ambassador speaks, he is representing the United States.
The verbal sparring match continued, but there never was a clear statement whether the United States agrees with Gutman or not. All that was clear is that the government condemns anti-Semitism and – of course – its "commitment to Israel's security is ironclad.  
Another journalist asked if the Obama administration would accept several calls from Republican leaders that Gutman be fired for his remarks.
"
We have full confidence in him," Toner concluded.