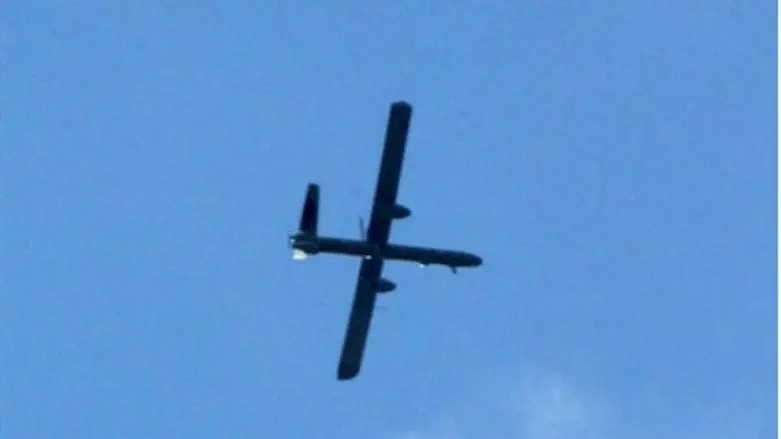 Israeli drone
Israel news photo: Flash 90
An IDF drone allegedly blew up an Israeli intelligence installation in southern Lebanon Friday discovered by Hizbullah terrorists, according to a report published in the Lebanese newspaper The Daily Star.
A website linked to Hizbullah said the wireless communications facility had been bombed.
"Hizbullah thwarted an Israeli spying operation in the area between Srifa town and Deir Kifa," the terrorist group said in a statement. "Hizbullah discovered the Israeli spying device in this area before Israel blew it up with their [reconnaissance] drone."
Security sources told the newspaper the explosion heard by area residents might have been the result of an explosion from an Israeli cluster bomb.
Residents in the area, situated between the two towns told The Daily Star they also heard an IDF reconaissance plane flying overhead just prior to the explosion. The newspaper added there were reports locally that two people were injured in the blast -- something that Hizbullah denied.
"No Hizbullah fighter was injured," the terrorist group claimed.
Earlier in the week, four 122 mm Katyusha rockets were fired at northern Israel from an area between the villages of Aita Sha'ab and Rumaiysh in southern Lebanon, just two kilometers from Israel's northern border. All of them landed in the western Galilee.
One of them struck a propane gas tank, which exploded. A second struck a chicken coop, causing extensive damage and considerable economic hardship. No one was physically injured in the attacks, although a number of people suffered from trauma and severe anxiety. Israeli forces returned fire to the source of the attack.
A terrorist organization linked to the international Al Qaeda group, the Abdullah Azzam Shaheed Brigades, claimed responsibility for the rocket fire. Al Qaeda also has links with the Doghmush clan, which runs the Army of Islam group, in Hamas-run Gaza on Israel's southern border just north of Egypt, and has links with at least one group in Egypt as well.