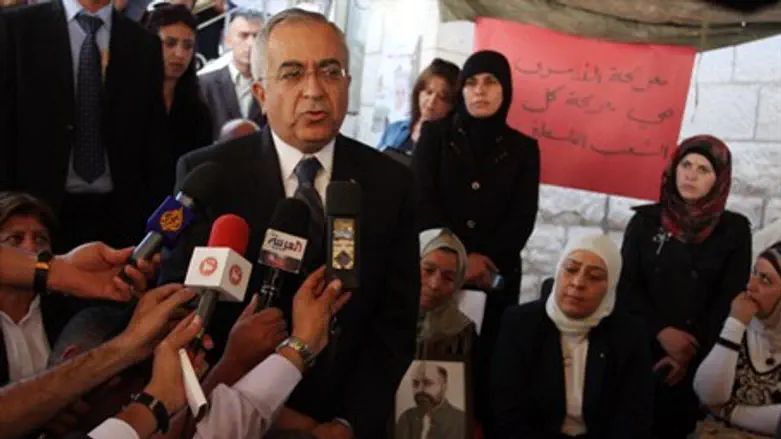 Salam Fayyad
Flash 90
Palestinian Authority Prime Minister Salam Fayyad said, Thursday, he plans to drastically reduce his government's reliance on foreign aid next year and hopes to be able to pay for day-to-day operations with local revenues by 2013.
Fayyad told the Associated Press his decision was spurred by what he described as the Palestinian Authority's worst financial crisis since its inception in the mid-1990s.
The current financial crisis in Ramallah, which has lasted more than a year, comes amid an ongoing corruption probe that has diminished confidence in Fayyad's administration and a downturn in foreign aid dollars from donor countries.
Amid the Arab Spring and sovereign debt crisis in Europe, the coffers in Ramallah have been running near empty. The fragile and intensely dependent nature of PA finances was underscored by two body-blows following Chairman Mahmoud Abbas' unilateral statehood bid at the United Nations earlier this year.
First, the United States temporarily froze some $200 million in aid to Ramallah, leading its senior financial officials to say bankruptcy was on the horizon. Second, even after the US restarted funds, Israel struck even deeper by freezing tax revenue transfers to the PA.
The cessation of tax revenue transfers - amounting to roughly $100 million per month - led Fayyad to say he would have to shut down the PA if the desperately needed moneys did not begin flowing again.
The Netanyahu government reversed itself Wednesday under international pressure. Shortly afterwards Foreign Minister Avigdor Lieberman criticized the decision saying it would "perpetuate terror" and encourage PA recalcitrance.
Lieberman was proven correct, late on Wednesday, when Abbas declared he would restart his unilateral bid for statehood at the UN in the future. An Israeli official responded, Thursday, that Israel might suspend the funds again in the future should Abbas pursue the unilateral track.
Analysts note the PA economy will always be dependent on close cooperation and integration with Israel, adding Fayyad's decision to move away from foreign aid will only serve to make the PA economy more dependent on Israeli largesse.
And render Ramallah even more vulnerable to Israeli sanctions.