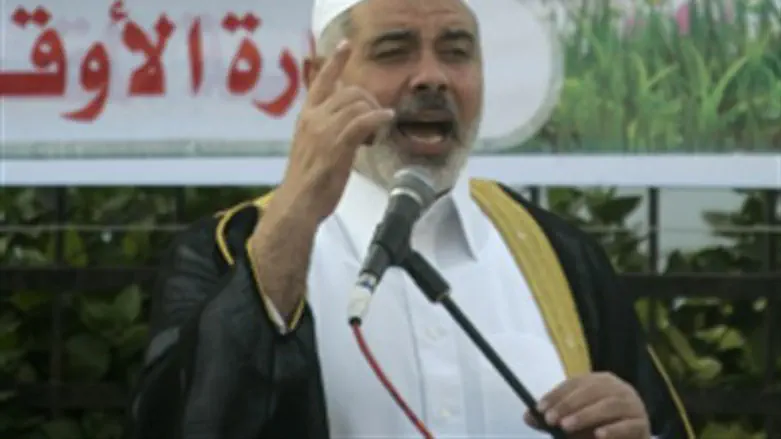 Ismail Haniyeh
Israel news photo: Flash 90
Tens of thousands of residents of Gaza took part on Friday in a rally in which they called to save Jerusalem from its "Judaization" (ie the settling of Jews in their capital) by Israel. The procession was organized by the Hamas terror group and similar rallies were held in other Arab countries.
The main procession in Gaza started at the Al-Omari mosque immediately after Friday prayers. The marchers later arrived at Palestine Square, where a rally was held with the participation of Hamas' prime minister Ismail Haniyeh, Deputy Parliament Speaker Ahmed Bahar (Hamas), and other parliament members and public figures.
During the rally, protesters waved posters which read, "Al-Quds (the Arab name for Jerusalem) will remain Arab and Islamic," and the participants chanted, "We will sacrifice our souls and our blood for Al-Quds." One of the speakers, parliament member Mushir al-Masri (Hamas), said that the weekly Friday protests illustrate the willingness of Muslims to do everything for the liberation of the Al-Aqsa mosque.
Masri added that the Arab peoples who took part in the Arab Spring would rise up in the future in order to "release Al-Aqsa from the impurity of the Jews."
The protest came after on Thursday, Haniyeh said during a meeting with a delegation of Sunni clerics in Egypt that "Palestine" is considered holy Islamic soil which must not be given up.
"When we say that we agree to a state within the 1967 borders (1949 armistice line –ed.) with its capital in Jerusalem, our intention is contingent on non-recognition of the Israeli entity and on the return of refugees," Haniyeh said.
Last week, Hamas announced its intention to hold a "million man march" in Cairo which would also protest against the "Judaization" of Jerusalem.
Previously, the sheikh of Al-Azhar University in Cairo, a top religious authority of Sunni Muslims, warned Israel not to continue the "Judaization" of Jerusalem.  
Sheikh Ahmed Al-Tayib held a news conference in which he declared that the Judaization of "Al-Quds" and harming the Al-Aqsa Mosque compound are a red line and would lead to the annihilation of "the Zionist entity in Palestine" – i.e., Israel.
(Arutz Sheva's North American Desk is keeping you updated until the start of Shabbat in New York. The time posted automatically on all Arutz Sheva articles, however, is Israeli time.)