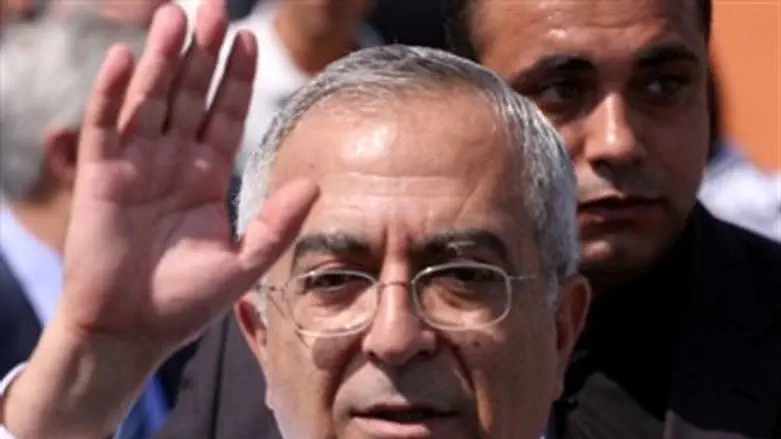 PA Prime Minister Fayyad
Israel news photo: Flash 90
The Palestinian Authority may soon fail financially and cease to exist, its prime minister warned on Thursday.
Salam Fayyad warned that if Israel does not resume the transfer of tax revenues it collects for the PA, the entity will collapse economically and thus cease to exist. Already now, Fayyad claimed, the PA cannot pay salaries to its employees.
Channel 10 News reported that Fayyad made the comments following a meeting with Norway's Foreign Minister Jonas Gahr Støre. According to the report, Fayyad said that the collapse of PA institutions "is advancing rapidly toward the point at which they will stop operating."
"We have no money," Fayyad was quoted as having said. "It's not about donations or international assistance we receive," he added, blaming the Israeli decision to freeze the taxes it collects for the PA as being the reason for the impending collapse.
A recent World Bank report, while admitting that the PA is undergoing a financial crisis, said the crisis was primarily due to the lack of donor countries fulfilling their pledges to fork over billions of dollars to Ramallah.
Israeli officials decided to halt the transfer of taxes to the PA as part of a round of sanctions against the entity, following its ascension as a 'full-member state' to UNESCO. Last week, Israel's cabinetvoted to maintain the freeze. Israel transfers some $100 million in tax payments to the PA every month.
Foreign Minister Støre reportedly said Fayyad is correct in saying that the PA will soon cease to exist, and compared the Israeli decision to waterboarding, the method of torture used by the United States on security prisoners, when interrogators simulate drowning by pouring water on the head of the prisoner.
"This is waterboarding-style torture, only that it has to do with the economy," Støre was quoted as having said.
On Tuesday, United Nations Secretary-General Ban Ki-moon asked Prime Minister Binyamin Netanyahu to resume the transfer of taxes to the PA, saying that transferring tax money to the PA would be in line with Israel's legal obligations.