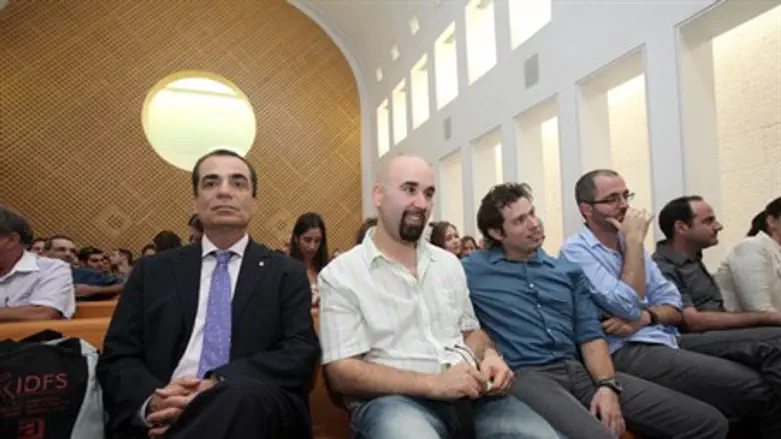 Interns at the Supreme Court
Israel news photo: Flash 90
The medical interns and the Treasury are set to resume negotiations, after an agreement was reached late on Sunday night regarding the mediators who will lead the negotiations.
The agreement was reached following a discussion at the Supreme Court, during which Supreme Court President Justice Dorit Beinisch offered to appoint Former Supreme Court Justice Professor Yitzhak Zamir and President of the Israeli Association of Mediators Professor Moti Mironi as mediators in the negotiations.
On Thursday, the Supreme Court ruled that the interns would have three days to decide whether they are willing to re-negotiate with the Treasury for a period of two weeks.
The interns announced on Saturday night that they intend to return to the negotiating table with the Treasury, but clarified they will not return to hospitals until they submit an outline for negotiations and it is approved by the State and the court. Now that the mediators have been identified and agreed upon, the interns are expected to return to work and it is hoped that the sides will resume negotiations and reach a settlement quickly.
The interns in state hospitals were supposed to be covered by that labor agreement, but have since claimed that they were not consulted on that deal and were unable to agree to its conditions, because it did not deal with their problems – specifically the extra shifts and extended hours many of them are required to take on, for very low pay.
The government has held talks with the interns to see how the situation can be resolved, but has made clear that it will not renegotiate the signed agreement, or sign a separate deal with them.