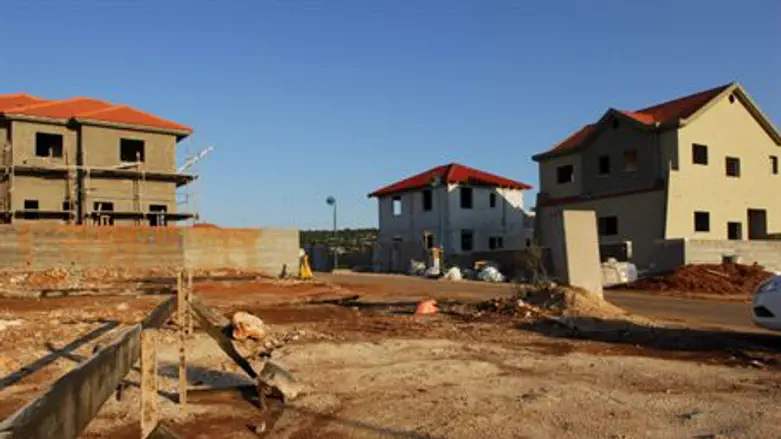 Construction in Samaria
Flash 90
The government claims to be in favor of allowing Jewish towns in Judea and Samaria to grow "naturally," expanding incrementally to ensure that children and grandchildren are able to remain in the towns where they grew up, if they so wish.
In reality, though, no practical steps have ever been taken to ensure this minimum growth in Yesha, with the result being that many Yesha towns are experiencing severe housing shortages, since the government will not allow wide-scale expansion in these towns, despite the huge demand for housing by young couples.

MKs Ya'akov Katz (Ketzaleh), chairman of the National Union, along with Likud MK Yariv Levin and Yisrael Beiteinu MK David Rotem have initiated a law that will force the government to "put its money where its mouth is."
On Sunday, the Ministerial Law Committee will consider a law by the three MKs that will require the Prime Minister and Defense Minister to issue tenders for new homes in the ten biggest towns in Judea and Samaria, in order to ensure that they can expand sufficiently to ensure natural growth.

The law would apply to Ma'ale Adumin, Ariel, Beitar Ilit, Modi'in Ilit, Alfei Menashe, Karnei Shomron, Beit Aryeh, Oranit, and Kiryat Arba. THe law will be brought before the Ministerial Law Committee next Sunday for approval.

Each year, according to the proposed law, the Housing Minister will examine the number of residents in each of the ten cities and towns, determining how many more people live in the town since the previous year.
The Defense Minister, who currently must approve all projects in Yesha and simply did not do so for a lengthy period, will be required to sign permits allowing for the marketing and sales of apartments and homes.

The MKs said that they got the idea for the law after it became clear that construction was still frozen de fact  in Judea and Samaria, despite the official end of the building freeze last year.
The bill is designed, the MKs said, to ensure that the government fulfills its promises, and to ensure that residents of Judea and Samaria receive their basic rights to live in the communities they call home.