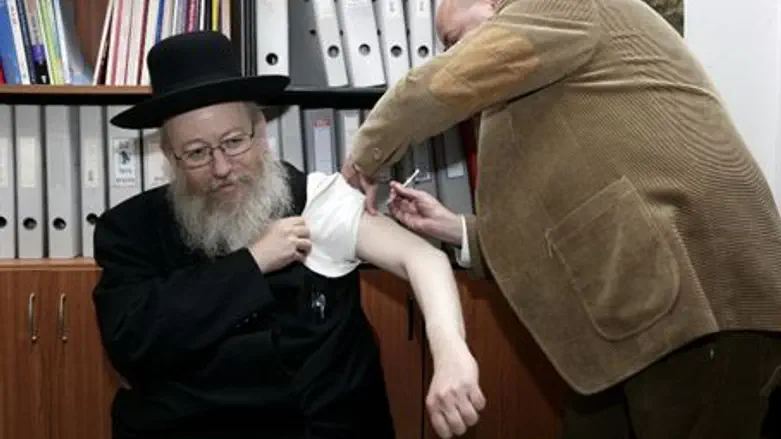 Deputy Health Minister Yaakov Litzman
Israel news photo: Flash 90
Thirty senior medical specialists have announced their resignations in the wake of Health Ministry sanctions. The ministry announced Wednesday morning it would order the hospital to immediately fire ten of the senior doctors who submitted their resignations in solidarity with colleagues around the country.
The resignation letters had given notice till the end of the month as the effective date for their termination. Doctors told an interviewer on state-run Voice of Israel government radio they had hoped the crisis could be resolved by that time.
The doctors are locked in a struggle with the Finance Ministry to protest a salary agreement recently signed with the Israel Medical Association that includes signing in with a time clock.
Medical residents have spent the past three months arguing with the government over working conditions and demanding higher salaries. Since Monday, close to 300 residents have not shown up for work, and at least 30 senior specialists in medical centers from Haifa and the central region have tendered their resignations.
The medical staff voted earlier in the day to hold a limited strike because they were backed by the hospital administration, which essentially shut down all but emergency care from 8:00 to 10:00 a.m. throughout the entire hospital.
Doctors at Sourasky Medical Center in Tel Aviv are considering taking similar action should the Health Ministry attempt to effect immediate terminations with the resignation letters of their physicians as well.
Rambam Medical Center administrators meanwhile have said they would refuse to fire the physicians as ordered by Deputy Health Minister Yaakov Litzman. "The management of Rambam, out of consideration for the good of the patients, cannot carry out the instructions of the Health Ministry," the hospital said in a statement.