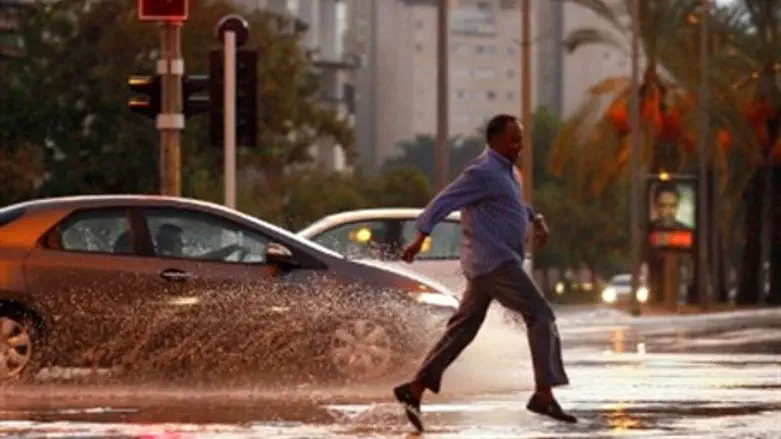 Heavy rains in Israel
Israel news photo: Flash 90
Torrential rains fell in northern and central Israel but are just a preview of more to come. "HaShem makes the wind blow and the rain fall".
Nearly two inches of much needed rain fell in metropolitan Tel Aviv. "Large quantities of rain fell on Monday along the coast even as far south as Be'er Sheva," veteran weather forecaster Uri Batz told Arutz Sheva.
He added, "Not even a drop fell in the Golan Heights, but I expect this to change. On Tuesday (today), temperatures will fall sharply and rain and thunderstorms are forecast."
Batz said that the rain will be heavier on Wednesday, with light snow on the top of the Hermon mountain.
The rain will weaken on Thursday, but heavy precipitation will return on Friday and the Sabbath, tapering off on Sunday, according to Batz.
"Six straight says of rain is rare in our climate. We are on the right path and there is more to come. I think the rainfall this winter will be at least average."
Israel is suffering from five years of below average rains, leaving the Kinneret and underground water sources dangerously low.
A week and a half ago, the 7th of Cheshvan, Jews in Israel began inserting into daily prayers the request that HaShem will "give us dew and rain for a blessing." Outside of Israel, the prayer is recited from December 4, sixty days after the autumn equinox, until the last day of Passover, as in Israel.
"He makes the wind blow and the rain fall" is recited in the silent Amidah prayer from Shemini Atzeret, on which the solemn prayer for rain is recited and which follows the holiday of Sukkot, until the last day of Passover.