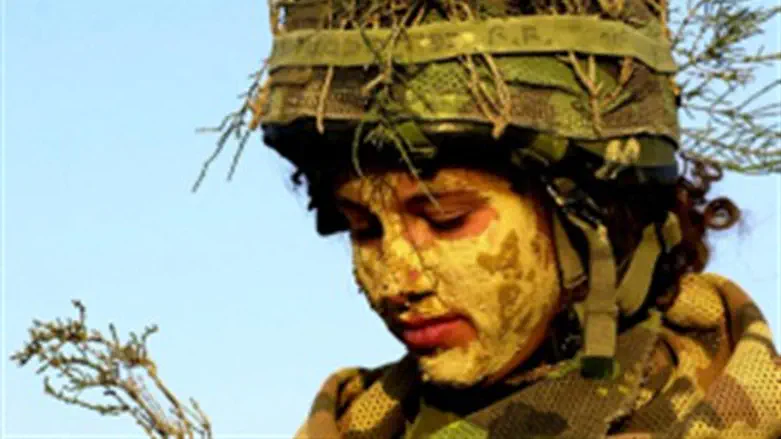 Women in combat
Israel news photo: Flash 90
Nineteen reservist generals signed a letter to Defense Minister Ehud Barak and to IDF Chief of Staff Lt. Gen. Benny Gantz, in which they accuse religious soldiers of preventing women's advancement in the IDF.
According to the ultra-leftist Haaretz newspaper, the generals include Former IAF commanders Avihu Bin-Nun and Amos Lapidot, and former Navy commanders Ze'ev Almog, Shlomo Erel and Avraham Ben-Shushan. Other familiar names among the generals include Ran Goren, Ori Or, Menachem Einan, Ze'ev Livneh, Yeshayahu Gavish, Shlomo Gazit, Yosef Geva and Shlomo Lahat.
The generals' letter mentions recent incidents in which religious soldiers did not participate in ceremonies that included entertainment by female singers and warned that such incidents would lessen women's motivation to serve in the IDF. 
They did not mention the rights and motivation of religious combat soldiers who daily risk their lives to defend Israel and deserve that their religious observance be respected, certainly in non-combat situations.
"Recently the media has reported numerous serious events relating to the tension between the service of religious men and female soldiers in the IDF. These include among other things demands to remove women from instruction, combat and combat support roles on religious grounds; separation of women in events, preventing them from singing in ceremonies etc. This atmosphere must also have a negative effect on the advancement of women in the IDF command structure."
"Service by men and women is a keystone of the IDF as the people's army. Keeping women out of a variety of core roles hurts women on the basis of gender and forces norms of behavior that fit a small part of the religious populace upon the entire army."
The IDF Spokesman's Unit responded by saying that "the letter was received in the General Staff at a late evening hour. We are sorry to see the letter discussed in the papers before the people it was sent to had ample time to study it."
There is, however, another side to the story, but a less populistic one. According to a group of IDF reserve officers and civilians called the Forum for the Strength of the IDF, women's service in combat units entails a very high rate of severe and permanent injuries to the female soldiers, which is covered up by the militant feminist establishment.
In addition, opponents of female combat service say that IDF units have lowered their standards of training in order to accommodate the female volunteers, who are few in number but have a powerful political lobby behind them. They say the IDF has been misled regarding women's service in other armies, and note that women are largely kept out of combat units in armies that actually fight wars, like those of the U.S. and Britain, as opposed to armies that engage mostly in policing missions.