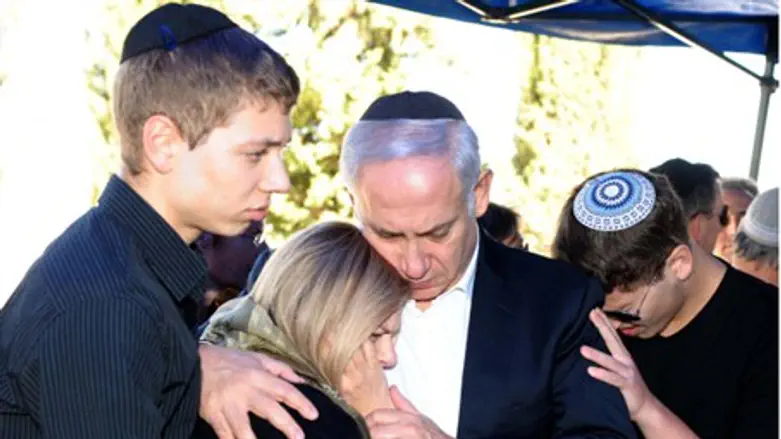 Netanyahu family at funeral
Israel news photo: Avi Ohayon/GPO/Flash 90
Shmuel Ben-Artzi, father of Sarah Netanyahu, was laid to rest on Friday at the cemetery in Givat Shaul in Jerusalem.
During the modest funeral, Ben-Artzi's family members, including his son-in-law Prime Minister Binyamin Netanyahu, eulogized their beloved father and grandfather. The eulogies offered a glimpse at the family's connection to Jewish tradition.
"I never met a person who knew him and who didn't swear by his personality and who was not charmed by his modesty and his sensitivity, from the depth of his thinking and from the goodness of his heart, from the simplicity of his manners and from his life story," Prime Minister Binyamin Netanyahu said of his father-in-law.
"You 'infected' all of us with your special spirit," Netanyahu continued, directly speaking to Ben-Artzi. "It infected Yair who made sure to sing with you at the Sabbath meal. You also 'infected' Avner who received from you, Shmuel, the love of the Bible. I remember how your eyes lit up, how I saw tears of happiness, when he won the Israeli Bible Quiz and came in second in the International Bible Contest, in the tradition of your sons. It was thanks to you, Shmuel. Only thanks to you."
Netanyahu's son, Yair, spoke of the influence his grandfather had on him and how happy the family was to have their grandfather live with them for the past year.
"My beloved grandfather, you were the heart and soul of our family and our home," Yair said. "When you came to live with us, a little over a year ago, the house was filled with light, happiness and love. It was the happiest year of my life."
"You were a central figure in my life and you contributed a lot to the shaping of my personal and my values," continued the young Netanyahu. "I see in you an example of getting over difficulties, of compassion and humility, of integrity, of purity, of love of reading books."
Also present at the funeral was Rabbi Yona Metzger, Israel's Chief Rabbi. He commended the Prime Minister and his wife for welcoming Ben-Artzi into their home.
"Have you ever heard in the entire 63-year history of the State of Israel that the Prime Minister and his wife brought the father to live with them in the Prime Minister's residence?" Rabbi Metzger said. "I, with my full knowledge of prime ministers' homes, have never heard of such a thing. It only proves the respect."
Ben-Artzi passed away last Wednesday at the age of 97. His long life was dedicated to building the land of Israel. After many years in which he lived a secular lifestyle, he returned to Torah observance in recent years.
Born in Poland in 1914, Shmuel Ben-Artzi came to Israel in 1933. He began his life in Israel in the Beit Yosef yeshiva in Bnei Brak, but later decided to dedicate his efforts to physically building the land and left to work as a farmer and an agricultural administrator.
In 1945 he served in the Etzel underground military group. From 1946 to 1948 he served in the Haganah, which later became the IDF.
He spent the next several decades working as a teacher, raising a family and earning university degrees in Tanach (Bible), literature and the Hebrew language. He wrote multiple books, the most recent of which details his life as a yeshiva student in Israel and the inner debate between Torah and secular Zionism that faced many young students at the time.
Photo: GPO / Flash 90