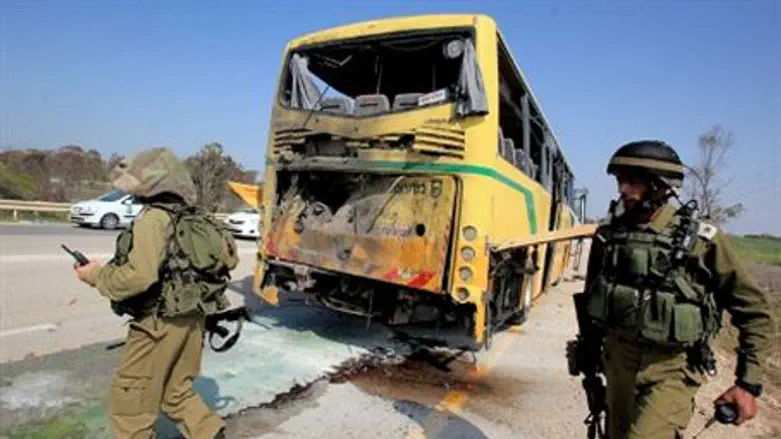 Remains of school bus attacked by Hamas
Israel news photo: Flash 90
The Palestinian Authority, backed by the International Solidarity Movement (ISM) and the pro-PA B'Tselem group, plans a new gimmick – occupying "settler" buses in a "Freedom Ride" on Tuesday.
The ISM, an extreme left-wing group that includes anarchists who have helped take over Israeli state land for the PA, is linking the new PR effort with the Freedom Rides of the U.S. Civil Rights against then-segregated buses in the southern United States in the 1950s and 60s. Of course, the anti-segregation movement was non-violent.
"Palestinian Freedom Riders will attempt to board segregated settler buses heading to Jerusalem through the occupied West Bank, in an act of civil disobedience that takes its inspiration from the U.S. Civil Rights Movement Freedom Riders," according to the ISM.
Its website repeated the accusation of Israeli "apartheid" and falsely stated that Israel has placed a "ban on Palestinians' access to Jerusalem" under its "colonial regime."
"Palestinians demand the ability to be able to travel freely on their own roads, on their own land, including the right to travel to Jerusalem," the ISM said.
In truth, Egged public buses operating in Judea and Samaria stop at Jewish communities. Israeli citizens, whether Arab, Bedouin or Jewish, are allowed to board after security checks, if necessary. PA Arabs in Judea and Samaria hurl rocks at public buses almost daily in an effort to try cause a fatal accident. Arab buses stop only in Arab communities and no Jew would dare to ride one of those buses or enter an Arab town, if he values his life.
Egged has not responded to Arutz Sheva's request for a response concerning how they will handle the planned rally.
The campaign effort on Tuesday is also aimed at the light rail system in parts of Jerusalem where the Palestinian Authority claims sovereignty. Jerusalem Arabs with an Israeli identity card are allowed to board the trains which go though Jewish and Arab neighborhoods.
In Judea and Samaria, activists plan to head to bus stops at Jewish communities and board buses.
Demonstrations also are planned in foreign countries, especially in the Netherlands, where Egged has won a tender to run bus services in a city north of Amsterdam.
The rights group B'Tselem accused Israel of subjecting Arab drivers and passengers to "humiliating" inspections at checkpoints. The IDF has prevented hundreds of terrorist attacks by conducting those searches, similar to those carried out almost every security crossing in other countries.