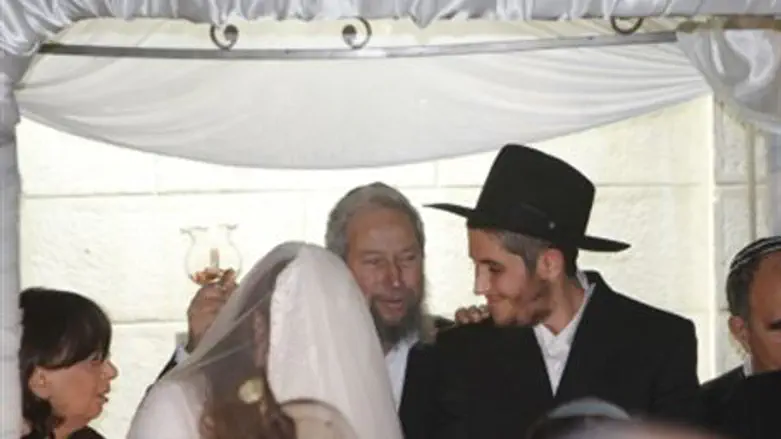 A Jewish wedding.
Israel news photo: Flash 90
Rabbis of the Tzohar organization met with Religious Affairs Minister Ya'akov Margi Wednesday in an attempt to work out a deal that would allow them to continue performing marriages for secular Israelis. According to the arrangement the two sides are working on, Margi will support a Knesset law to allow Tzohar rabbis to register couples in the towns in which they leave. A committee or rabbis from Tzohar and the Chief Rabbinate will be assembled to clarify the rules of who should officiate at which weddings, and when.

Earlier this week, Margi said he would invoke a rule that would require couples registering for marriage with the Chief Rabbinate – required for a Jewish couple that seeks to register themselves as officially married – to get married in the city or town where at least one of them reside. Tzohar rabbis had been registering marriages with the Shoham rabbinate, which is headed by the director of Tzohar, Rabbi David Stav. The requirement would have essentially stopped Tzohar rabbis from performing weddings, a situation that many religious leaders and MKs said would cause a mass exodus of secular Israelis seeking to marry to perform ceremonies abroad, due to their animosity to the country's religious establishment.

The issue caused a great deal of consternation among MKs, both religious and secular, and a number of MKs called for a Knesset discussion to develop a law that would clear the way for Tzohar rabbis to perform weddings. Among the MKs who called for a session to discuss the issue were Zvulun Orlev, Ze'ev Bielski, Orit Zuaretz, and Tzippi Hotovely. Kadima head MK Tzippy Livni expressed support for a law to enable Tzohar rabbis to perform weddings. "Tzohar rabbis bring young secular Israelis closer to traditional Judaism, and thus contribute to preventing Israeli from becoming a society that loses its identity and isolates itself from each other. Tzohar should be strengthened, not weakened. Anyone who understands Judaism will realize this," she added.