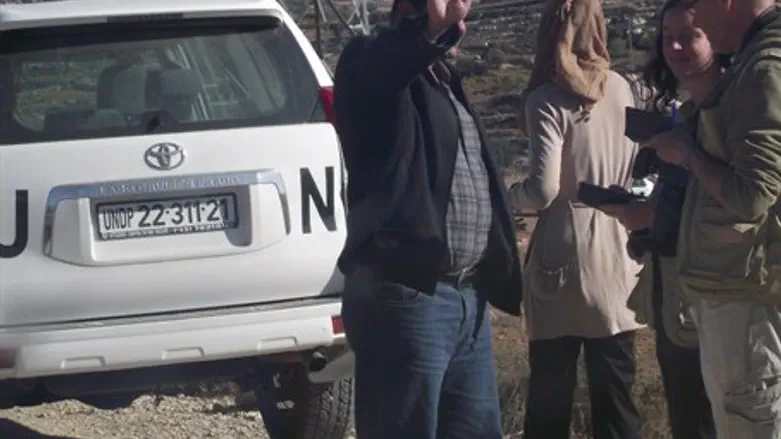 UN observers, Arabs
Women in Green
During regular patrol by Women in Green in Netzer, a UN car with UN observers and Arabs were spotted at the field where Arabs had, two days ago, uprooted Jewish trees and attacked three Jews, among them grassroots leader Nadia Matar.
The UN observers were filming the field and listening to the Arabs' explanations. When the Women in Green approached to film them, the Arabs made sure to hide their faces.
Women in Green stated: "No doubt, the Arab who falsely claims that the field is his, has very strong connections within the Palestinian Authority (PA) and other influential organizations. That was already seen two days ago during our detention in the police station, when material by Arab Attorney Ghiath Nasser was flowing to the police officer."
"The support and backing the Arabs are getting from the PA and international organizations, helping them to grab Jewish land,increases the tension in the area. On the other hand, the Israeli authorities stutter and do not implement the rule of law. The Civil Administration clearly declared that the field in question is State Land but it has no motivation to act upon this knowledge and safeguard these lands."
Women in Green have been
fighting a dogged battle with local Arabs
for Netzer for years. They said Wednesday that they have no intention of giving up and very soon will have a planting campaign in Netzer -- the location of a former IDF base in the Etzion bloc (Gush Etzion).
UN in Netzer
Women in Green