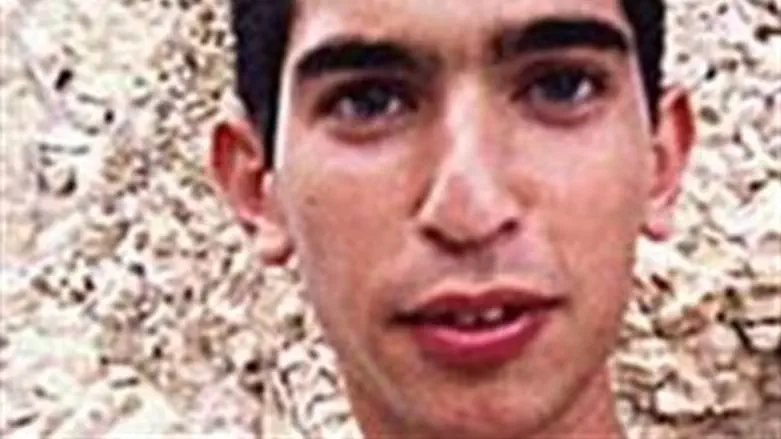 Ophir Rachum
Israel news photo: Flash 90
Shalom Rachum, whose son Ophir was killed by terrorists after being lured to Ramallah by a female terrorist in 2001, expressed his disappointment on Tuesday over the treatment his family has received from the Israeli authorities.
Amna Muna, the female terrorist who lured Ophir to Ramallah, was released as part of the deal Israel recently signed to secure the release of abducted soldier Gilad Shalit. Israel has agreed to release 1,027 murderers and 477 have already been let go.
Muna was deported to Turkey, where she received a warm welcome and recently revealed her plans to start a new life and study psychology at a local university.
Rachum's father, meanwhile, described the terrible reality his family has been faced with since Muna's release, adding that the continued media attention she is receiving, even in the Israeli media, is causing his family to mistrust the country and its systems.
"It's very hard to understand how a murderer is released and receives so much public support," Shalom Rachum told Arutz Sheva. "I was very disappointed by the State of Israel. No one is counting us, no one is talking to us. Seeing her being released brought back all the memories from the day of the murder. To date, no social worker has come to speak with my children or their mother, whose situation has deteriorated since the terrorist was released."
Rachum, who lives with his family in Ashkelon and works as an electrical contractor, said that life will never return to normal for his family.
"I've had difficult days since she was released," he said. "I've lost faith in the country and the system. I feel sad and isolated. I have other children so I cannot afford to sit and feel sorry for myself, but the recent period since she was let go has been too much to bear."
"As far as the State of Israel is concerned, we don't exist," added Rachum. "They do what they want and don't care that we have been hurt. They could have at least sent us a social worker to talk to the children and to the family before the terrorist was released, to ask us how we feel, but that didn't happen. I hope this surrender agreement doesn't result in more bereaved families."
He added that the way Muna lured his son over the Internet to Ramallah, seems to mean that her psychological skills are good, adding cynically that perhaps her decision to pursue a degree in psychology is justified.
"There was a lot of psychology involved in the way she lured my son and in the way the murder took place," Rachum said. "Unfortunately I'm sure we'll be hearing that she has committed more acts of terrorism."
Arutz Sheva contacted the Welfare Ministry for their response about not sending a social worker to assist the Rachum family during this difficult time period. The Ministry said that the responsibility for sending social workers lies with the welfare office in the city of Ashkelon.
The Ashkelon municipality, however, did not respond to an inquiry by Arutz Sheva on this issue.