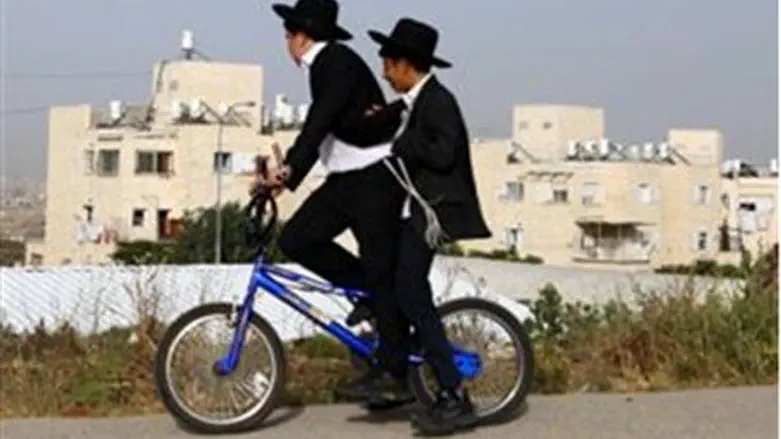 Young hareidi-religious Jews
Israel news photo: Flash 90
Former Mossad chief Ephraim Halevy's characterization of hareidi-religious Jews as "a bigger existential threat to Israel than Iran and Ahmadinejad" constitutes anti-Semitic incitement, MKs accused Sunday.

"The equation of the hareidi community, which can be identified by external appearance, with Ahmadinejad and worse, by someone who was once the head of the Mossad, is clearly incitement likely to lead to actual harm," said MK Moshe Gafni (United Torah Judaism). Gafni called on Attorney General Yehudah Weinstein to investigate Halevy's remarks.

If Halevy's statements had been "a slip of the tongue" he would not have complained, Gafni added, "but the statements were part of an agenda that he has repeated time after time."

Knesset speaker Reuven Rivlin shared Gafni's concern over the potential for harm to arise from Halevy's words. "There are hints of anti-Semitism in what he said… Halevy needs to know that a person who holds a government position must be careful with his words, because irresponsible statements on his part could play into the hands of the world's biggest anti-Semites."

Halevy responded to criticism of his statements by accusing hareidim of "overreacting."

In his original remarks, Halevy's example of "hareidi extremism" was the fact that boys and girls do not dance together in hareidi circles.

Halevy is known for  making controversial remarks. In recent years he has questioned the "two-state solution" and has called to negotiate with Hamas.