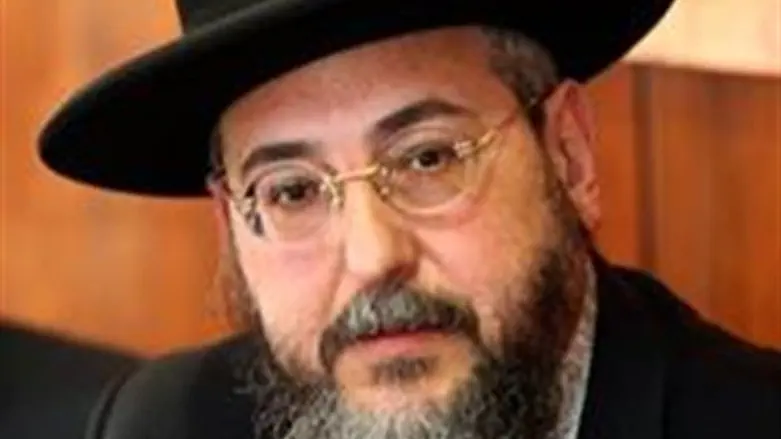 Rabbi Amsalem
Flash 90
MK Rabbi Chaim Amsalem has voiced support for President Shimon Peres's call to Haredim to integrate into the work force. In an exclusive interview with Arutz Sheva, Rabbi Amsalem, who broke off from SHAS to form the Am Shalem party says "one cannot manage a large society as if one was dealing with robots."

"Not everybody is suited to study Torah all day," Rabbi Amsalem said. "The way of Torah study that combines earning a living is the true path of our forefathers and this is how we should educate the young people. Someone who is truly enamored of Torah study will engage exclusively in that study."
As opposed to others in the Haredi camp Amsalem believes that core curriculum subjects such as English and math have to be studied already at a young age. When the child matures they will diagnose the students and in a joint decision with the parents it will be decided what is the proper framework for the child. Only a minority willing and able to devote its entire time to Torah studies will embark on that track while the vast majority will go to yeshivas that combine secular and religious studies.
According to Rabbi Amsalem the present system has reached a crisis point "they send children to frameworks that are unsuitable for them and wait for them to drop out at a mature age. At this stage it is already very difficult to find them a suitable framework and they are tossed into the street without a chance to build their future. The present frameworks suit those who come from a high economic class. Tuition is thousands of shekels a month and many in the Haredi sector simply cannot afford these amounts."
In conclusion Amsalem blames SHAS for exacerbating the problem: " SHAS arose to combat discrimination in the Haredi sector and in practice it functions as a satellite party to [the Ashkenazi] Degel Hatorah party. SHAS is in denial when it comes to the dropout rates and therefore it does not do anything to help people to avoid being trapped by the situation.