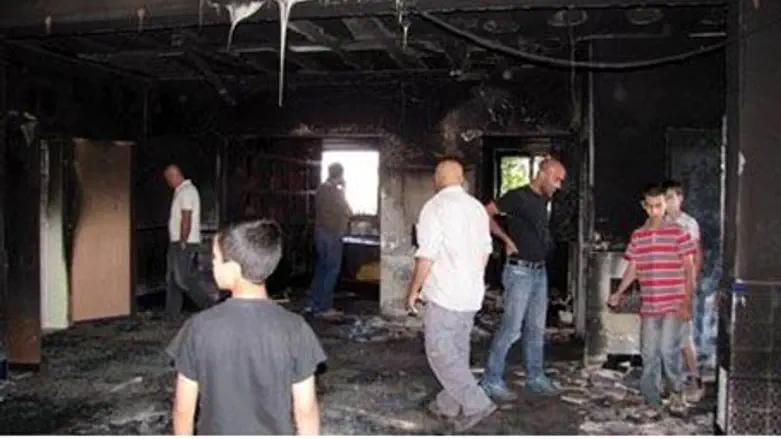 Aftermath of mosque fire
Israel news photo: Panet.co.il
A fourth suspect in the burning of a mosque in the Galilee Bedouin village of Tuba-Zangariya was arrested Monday evening, police officials say.
Police said the man is a 20-year-old resident of Samaria, who was arrested in the community of Yitzhar.
The suspect will be arraigned at the Petah Tikva Magistrate's Court on Tuesday morning, where police will seek an extension of his remand.
The first suspect arrested was released without charges. The arrest of two other suspects resulted in one being held, while the other was released. In that case the judge criticized the police request for remand saying their case was "not yet ripe," and noting a lack of substantive evidence against the accused.
The investigation into the arson is being carried out by the Judea and Samaria police in collaboration with the special LAHAV investigative task force, which was launched to investigate acts of vandalism or violence allegedly carried out by 'right-wing extremists.'
In September, police announced the formation of a special task force to track down and arrest 'far-right extremists' they allege are behind the so-called price tag incidents in Judea and Samaria. 
Critics, however, say the police are not investigating the possibility of a planted "blood libel". Others claim the new task-force is being driven by political currents, rather than by legal or security concerns. No such task-force has been created to address the exact same and worse activities when carried out by anarchists and left-wing activists against Jewish communities in Judea and Samaria.
"These acts are so dangerous and harmful on a national level. They can result in an escalation, and this is the last thing the country needs," Police Commissioner Yohanan Danino said last month.
Observers note the Tuba Zangariya mosque arson occured after the decision to form the task-force was taken, and note that the crime is an exception rather than the rule in the so-called 'price tag' phenomenon - which is predominantly characterized by vandalism and has yet to be proven to be perpetrated by Jews .
Nationalist leaders condemned the arson, but also say the task-force's special focus on 'right wing extremists' while ignoring the same acts by left-wing extremists is both deeply partisan and flatly unacceptable. Arson of Jewish fields and vinyards in Judea and Samaria are common occurences, they note, with no reaction and arrests.
Earlier this month, Israel's media joined left-wing politicians and activists in vociferously blaming nationalist Jews for the desecration of Christian and Muslim tombstones in a Yafo (Jaffa) graveyard, which turned out to be the work of local hooligans.
Investigators later said they believe the vandalism was the act of 'soccer hooligans.'