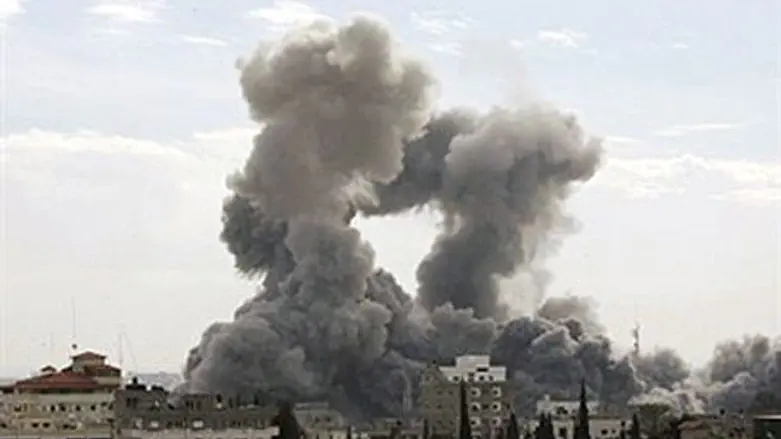 IAF Counterstrike (Gaza)
Arutz Sheva: Flash 90
IAF aircraft targeted shortly after midnight (Israel time) a terrorist squad that fired a Kassam rocket at Israel from southern Gaza.
According to the IDF Spokesperson, a hit was confirmed.
Just prior to the IAF attack, terrorists fired three rockets from Gaza at southern Israel. Two of the rockets exploded in open areas in the Ashkelon Coast Regional Council. The third rocket exploded in an open area in the Eshkol Regional Council.
In both cases there were no reports of physical injuries or damage.
"The IDF will not tolerate any attempt to harm Israeli civilians and IDF soldiers, and will continue to operate with strength and determination against anyone who uses terror against the State of Israel," the IDF said in a statement. "The Hamas terror organization is solely responsible for any terrorist activity emanating from Gaza."
Rockets and missiles continued to be fired at Israel throughout the day on Sunday, despite a supposed ceasefire declared by Islamic Jihad terrorists on Sunday morning.
Virtually every previous Gaza ceasefire has broken down, sometimes within hours and no longer than within several weeks.
IDF Spokesman Brig.-Gen. Yoav Mordechai clarified earlier in the day that the army "wasn't waiting for a decision" when terrorists agreed to a ceasefire. He told reporters that IDF Chief of Staff, Lt.-Gen. Benny Gantz, has ordered the military to prepare a variety of responses to the rocket and mortar attacks, in answer to a request by the government.
Meanwhile, Prime Minister Binyamin Netanyahu said Sunday that there is no ceasefire in the South and that the IDF is protecting Israel's citizens and killing the terrorists who fire rockets.
Speaking at the weekly Cabinet meeting, which was held in Tzfat, Netanyahu added that the terrorists would pay "an even higher price than they did until now," until the missile fire ceases.