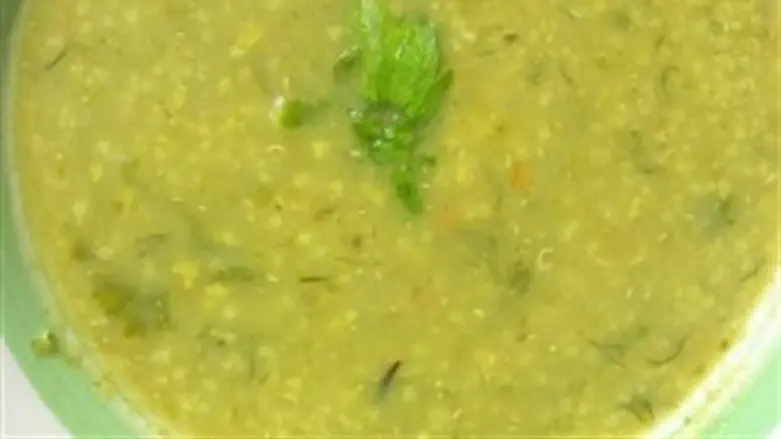 Shabbat Soup
justaddflax
Personally, after a month of holidays, I feel the need to lighten up the meals and drop off some of that extra weight.  One statistic claims that the average Israeli manages to gain 2.5 kilo (5 lbs.) over the month of Tishrei!  Perhaps what we really mean by mar-Chesvan is diet-Cheshvan.   
Ironically enough, some of the best foods to assist in weight loss are bitter foods, examples of which include, radish and celery.  While eating a radish a day is beneficial for anyone trying to lose weight,  one of the best ways to feel full while shedding some weight is with a hearty vegetable soup.  Soup is a water based food that is extremely filling while also being low in calories.  
To turn a vegetable soup into a full meal I add whole grains to the soup as a thickener while simultaneously adding nutritional value.  I also tend to puree my soups so that the individual ingredients become unidentifiable.  This trick is especially helpful with picky eaters who are afraid of new foods.
This recipe below is a healthier version of a Russian Spinach Soup. While the real Russian would use potatoes, I try to avoid that.  Potatoes happen to be one of the most fattening foods around, not a good choice for anyone wanting to lose weight.  Instead of using a potato, I use both millet and quinoa.  The grains thicken the soup in the same manner as a potato would, but they are a whole lot healthier.  While really any grain can be used here, I chose to use quinoa, for its nutritional value and millet as a wonderful way to balance the spinach.
Quinoa, considered only a few years ago to be exotic, is now a popular food.  The rise in popularity of quinoa  is due to its wonderful nutritional value.  Quinoa has the highest protein content of any grain, has more calcium than milk and is a very good source of iron, phosphorous, and vitamins B and E.  Millet on the other hand, might be one of the least used grains.
Millet is also high in protein and it has a rich silicon content.  Millet is a great food to eat while pregnant and it is helpful in preventing miscarriage. Millet is also used in  treating candida, this is due to its anti-fungal properties. Millet is  the most drying of the grains and is beneficial to a state of excess.  Eating millet during the month of  
Cheshvan will help us to lose weight by restoring our normal balance after a month of feasting.  Combining spinach and millet is a very good practice.  While millet is very drying, spinach is very slippery.  The two foods harmonize each other both in flavor and by nature.
Ingredients:
olive oil
1 onion, chopped
4 stalks celery, chopped
3 carrots, chopped
2 bunches spinach, washed well
1/2 bunch parsley
5 sprigs dill
2 liters water
2 cups oat milk (optional)
1/4 cup millet
1/4 cup quinoa
1 bay leaf
salt and pepper
Heat the olive oil in a soup pot. Saute the onion until they soften. Add the carrots and celery and continue to saute for five minutes more. Add the water and the oat milk and bring to a boil. Add the remaining ingredients and simmer on a low flame for one hour.  Remove from the flame and puree.
Serve hot.  Serves 6
Note: Adding a little bit of hiziki (seaweed) to your bowl of soup will add nutritional value as well as promote weight loss