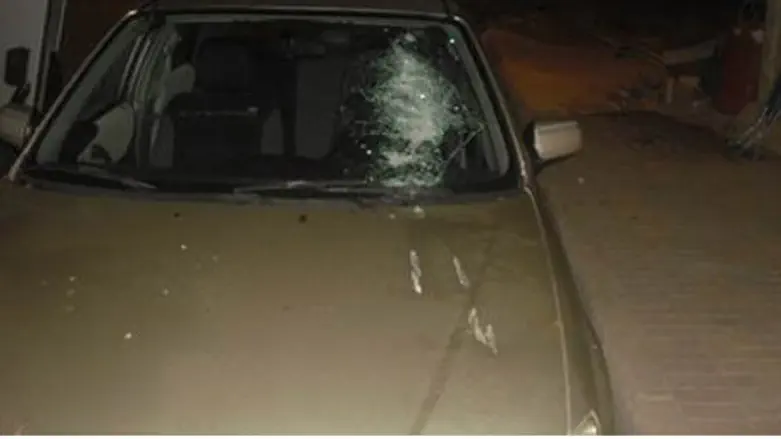 Aftermath of rock terror attack (file)
Israel news photo: Rabbi Duranii
Residents of Judea and Samaria report an upsurge in terror attacks in recent days, although official statistics are not yet available to confirm this.
Neria Avrahami of Psagot hitched a ride in a car that was driving northward on Route 60 near Maavar Mikhmas Tuesday afternoon. The driver attempted to turn left near the local gas station but an Arab-owned commercial vehicle blocked his way.
At the same time, a young Arab armed with a club emerged from the nearby village, jumped over the security barrier and headed toward the vehicle. He started banging hard on the front windshield, tried to climb atop the car and began breaking the rear window.
The driver managed to bypass the vehicle that was blocking the road, crossed the intersection and drove off. The attacker jumped back over the security barrier and disappeared. The Arab commercial vehicle, they realized, had blocked their way as part of a coordinated plan with the attacker.
It is not clear if any of the Jews were armed.
The owner of the vehicle that was attacked phoned the Binyamin Police and filed a police complaint. Policemen who arrived on the scene examined the damage to the car and took testimony from the witnesses. They promised that the IDF would try to locate the attacker.
"We are in mortal danger on the roads," said Avrhamai. "I saw the devil inside the Palestinian upon his face. His aim was to kill. I was surprised at his daring and the murderousness in his eyes."
On Monday, Arabs threw a rock from a passing vehicle at the Egged 170 bus going from Beit El to Jerusalem. No one was hurt but the bus was damaged.
On Sunday a Border Police force arrested an Arab terrorist at a roadblock near the Cave of Machpela in Hevron. He was carrying a knife and a homemade explosive cap. He admitted that he was planning to stab Jews.
On Sabbath, an Arab stabbed a Jewish youth in Jerusalem. On the eve of Simchat Torah, a female Arab terrorist at the Gush Etzion Junction pulled out a knife and ran toward a group of soldiers and civilians, shouting "Allahu akbar" and "death to the Jews." She was subdued and arrested.